After decades of neglect, South Beach's Washington Avenue is getting a major renovation
May 7, 2018
Bercow Radell Fernandez & Larkin is pleased to represent a number of clients that are transforming Washington Avenue: 
Imperial Property, Moxy, Clay Hotel—Infinity Group, Washington Squared, Kimpton Angler's Hotel, 1600 Washington Avenue—Paul Cejas, and 1685 Washington Avenue—Finvarb Group.
After decades of neglect, South Beach's Washington Avenue is getting a major renovation
Consider the curious case of Washington Avenue. In the early 1990s, as South Beach transformed from sleepy retirement village to Art Deco playground, the street was the epicenter of the neighborhood's party scene — a bustling hub of restaurants, nightclubs and bars that catered to a primarily nocturnal crowd.
But 20 years later, after developers zeroed in on Ocean Drive, West Avenue and Lincoln Road, Washington Avenue looks like the proverbial cake left out in the rain — a tacky tangle of boarded-up storefronts, tattoo parlors, liquor stores, porn shops and enough cell phone repair businesses to service a small country.
Today, Washington Avenue is primarily a street people drive through in order to get where they're going. But after nearly three years of research and planning, the City of Miami Beach is making an aggressive move to reactivate the area.
In April, the commission approved a resolution designating the stretch of Washington Ave from Fifth to 17th streets as a Business Improvement District (BID). The resolution creates a tax fund paid by developers and business owners in the area for improvement and beautification projects. The BID designation will be active for a period of 10 years.
The signs of major change are already visible throughout Washington Avenue. The facades of some historical buildings face the sidewalk like backdrops from a movie set while construction churns in the lot behind them. Many of the businesses between Ninth and 10th Streets have been shuttered, awaiting a gut renovation.
The first wave of development will bring hotels and retail complexes, with residential and office spaces to follow. The non-profit BID has an annual budget of $511,331 and will be bankrolled by special assessments levied on the properties within the District.
The new proposal isn't the first attempt to revive Washington Avenue. Among several previous efforts, the most notable came in 2005, when city officials launched a 16-month, $13 million makeover of the street that included drainage improvements, roadway resurfacing and new streetlights.
But the current push differs from previous renovations by relaxing height and density restrictions — giving developers greater incentive to invest in more expensive projects. The new projects under construction or in development include: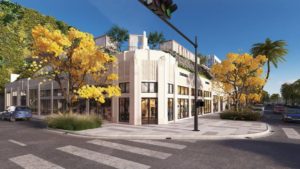 ▪ A new hotel spanning the east side of Washington Avenue from Sixth to Seventh streets. The south end of the building will offer about 300 hotel rooms in a seven-story tower; the north end will feature two floors of retail and restaurants. The project will sprawl over five aggregated lots bought by the New York-based Imperial Properties for $32.75 million in 2015 as Washington Squared LLC. Completion is scheduled for early 2020.
Architectural rendering of the north end of the 300-unit hotel being built on Washington Avenue between Sixth and Seventh Streets. The north end of the building will feature two floors of retail. 
▪ Moxy South Beach, a 202-unit, seven-story boutique hotel that will take up most of the city block between Ninth and 10th streets on the east side of Washington Avenue. The New York-based Lightstone Group paid $29 million in 2016 for three properties at 917, 945 and 955 Washington Avenue. Groundbreaking is scheduled for later this year.
▪ Another hotel stretching across two existing lots at 1409-1413 Washington Avenue. Acastar Miami LLC bought the properties for $5.2 million in 2017.
▪ Ongoing renovations and expansions at two existing budget hotels, the budget Clay Hotel at 1434 Washington Ave. and the boutique Clinton Hotel at 825 Washington Ave.
▪ Two commercial developments, one at 709-729 Washington by Washington Squared LLC and another at 1427 Washington by Guimel Kodesh LLC, that will feature a combination of retail and restaurants.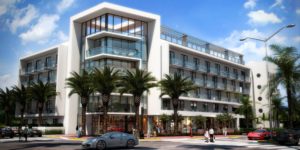 ▪ A five-story addition to the Kimpton Angler's Hotel South Beach at 660 Washington Avenue that opened just last week. The structure adds 85 guest rooms ranging in size from 400-1,000 square feet to the existing hotel, bringing the total number of units to 132. Nightly rates start at $255.
The new wing of the Kimpton Angler's South Beach hotel, located on the southwest corner of Washington Ave. and Sixth Street, is opening this week and features 85 rooms ranging from 400-1,000 square feet.
Two other major projects pending review are expected to be approved, said Debbie Tackett, chief of the Miami Beach Historic Preservation Board, are expected to be approved: A "major residential project" at 1600 Washington and another hotel at 1685 Washington, which currently houses a Citibank branch.
"Our hope is the work we've been doing will move Washington Avenue in the opposite direction than the one it's been going," said Miami Beach Mayor Dan Gelber. "Washington Avenue went into an abyss for a few years. It's going to take a lot of investment to bring it back to where it needs to be. But a lot of private developers see what it is — a beautiful, wide street which should embrace business activity. It needs to be more than dark, vacant stores and surf shops."
A master plan
While Washington Avenue fixtures such as the Wolfsonian-FIU Museum, the Miami Beach Cinematheque, the 11th Street Diner and the gay bar Twist have weathered the area's downturn, city officials believe the street has great, untapped potential to serve as a common area for the residents who live to the west and the tourists staying at hotels on Collins and Ocean Drive to the east.
A Washington Avenue Vision and Master Plan was created by a Blue Ribbon Panel formed in 2015 to recommend zoning and city service changes to improve the area. The changes raise height restrictions to 75 feet (roughly seven stories) for buildings with sidewalk frontage greater than 200 feet, waive sidewalk permit fees for cafes and eliminate parking requirements for hotels and small office developments.
"Washington Avenue is like the hole in the doughnut," said Blue Ribbon Panel member Lyle Stern, president of Koniver Stern Group consulting firm. "We have lots of tourists and residents straddling both sides of the avenue. The difficulty is populating it with businesses. Tourists enjoy Washington Avenue — it's reminiscent of the Village in New York City 30 years ago, with all the head shops and boutiques and novelty stores — but it still needs to be cleaned up."
A seven-story, 300-room hotel spanning a city block between Sixth and Seventh Streets along Washington Avenue, is currently under construction and due for completion in late 2020.
Eric Birnbaum, a founding partner with Imperial Companies, said the Sixth street hotel will incorporate the existing facades of the buildings from the 1920s and 30s that previously stood on the block. All of the new developments on Washington are respecting the requirements of the city's Historic Preservation Board.
"Washington Avenue has a lot of character, which gives the neighborhood a bit of an edge," Birnbaum said. "We see that as an opportunity. If you look at some of the most popular neighborhoods in New York — the Lower East Side or the Meat Packing District — they had a certain edge when developers started building there."
Guest rooms at the Sixth street hotel will measure around 175-200 square feet — 20-25 percent smaller than the rooms at the Delano and the Shore Club, he said. But experts say the higher density facilitated by the new zoning laws on Washington Avenue means more units in smaller buildings — something that will generate the critical mass needed to revive the neighborhood.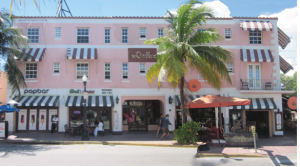 Smaller can be better
The population of Miami Beach is so transient that many locals weren't around during Washington Avenue's heyday in the 1990s. Back then, Prince performed impromptu jam sessions at the cavernous Glam Slam disco, which he also owned. Madonna was a fixture at Liquid, the dance club where she hosted the release party of her "Ray of Light" album. Mickey Rourke opened an eponymous night spot, Mickey's. Sean Penn and Simply Red singer Mick Hucknall were co-owners of the funky lounge Bash.
Rock bands performed live nightly at venues such as Washington Square and Rose's Bar and Music Lounge. Fourteen of the 24 South Beach nightclubs surveyed in a 1994 Herald nightlife guide were on Washington Avenue. Restaurants such as The Strand, Lulu's, Tiramesu and Osteria del Teatro (now on Collins Avenue) enjoyed devoted clienteles. Gianni Versace had come to Miami Beach to personally approve the new window display at his Washington Avenue store when he was fatally shot outside his Ocean Drive home in 1997.
On Nov. 18, 1997, a morning shopper trudged past the Versace billboard that shows more flesh than fashion outside the Versace store at 755 Washington Avenue in Miami Beach. The store has since closed. 
City officials concede that it will take a while before Washington Avenue will command that level of activity again.
"These are major developments that will take at least 24 months to complete," said Miami Beach Commissioner John Elizabeth Alemán. "You will see Washington Avenue blossom during that time frame. In the 1990s, there were lots of great bars and nightclubs on this street.
Washington Avenue wasn't vibrant during the day, but at night it would light up. Then a competitive nightlife scene began in Miami and a lot of the nightclubs moved there. Over time, Washington Avenue started to look derelict."
Alemán points out that some of Washington Avenue's current tenants have appeal beyond the surrounding blocks. For example, the Miami Tattoo Co., located at 1218 Washington, was votedBest Body-Piercing Shop in 2017 by the Miami New Times, and Alemán said the store provides important services, such as the free removal of tattoo brandings for victims of human trafficking.
But Miami Beach Commissioner Ricky Arriola said the sheer volume of liquor stores, tattoo parlors and cell phone repair stores dotting Washington Avenue needs to be reduced in order to attract bigger tenants to the street.
"We're trying to prevent retail that would scare off bigger tenants on Washington, Collins and Ocean," Arriola said. "We need progressive legislation to create an environment that would bring better tenants to the area who don't want to be next door to a tattoo parlor or a tarot card reader."
Gentrification fears
Business owners and managers on Washington Avenue said they welcome the influx of customers the hotels will likely bring but worry their stores might be priced out of the neighborhood. Andrew Resnick of Resnick and Associates, a firm with substantial real estate holdings in Miami Beach, said the current rent rates on Washington Avenue range from $50-$70 per square foot — a bargain compared to Lincoln Road's asking price of $300 per square foot.
Aiman Jamhour owns Amigo Wireless, a small phone store on the 700 block of Washington Avenue. His street already shows signs of a neighborhood in transition: A liquor store, tattoo parlor and smoke shop are wedged between tourist-friendly restaurants.
Jamhour said he "can't complain" about sales. His store sees a steady stream of tourists looking for pre-paid phone plans to use while they're visiting Florida and locals coming to buy a new phone or repair an old one. While panhandling is common in the area, the rent is about 30 percent cheaper than it is above Ninth Street, Jamhour said. His landlord has already warned that — with the new development in the area — his rent will likely go up to market value in a few years.
"Even if it goes to market value, if there's a difference, if there's action, movement in this block, it wouldn't matter," he said, referring to the increase in foot traffic he expects from the new hotels.
But while Jamhour and his neighbors see the need to revitalize the area, they also fear the city is trying to turn Washington Avenue into Bal Harbour.
"Higher-end clients wouldn't shop in a small store like mine," Jamhour said. "In five years or seven years, I think if it keeps going up in terms of prices and the hotels and stuff, small stores like mine won't survive."
Khandokar Islam, manager of the Friendz Food Market on the corner of Ninth Street and Washington Avenue, said he's optimistic the addition of two new hotels near his grocery store on South Beach will be good for business.
Two blocks north, at Friendz Food Market on the corner of Ninth Street and Washington Avenue, manager Khandokar Islam was more optimistic. His grocery store, a "friends and family business" selling food, beer and beach supplies, has been struggling to compete with national chains.
"There's a lot of competition," he said. "Everywhere is a 7-Eleven, CVS, Walgreens. They are killing the small businesses."
Islam hoped the hotel slated to move in next door would make the neighborhood more upscale. He worried that security concerns were driving customers away. At night, a tourist was more likely to go to a CVS or Walgreens, where there's a security guard, than a mom-and-pop grocery store, he reasoned. "If you want to build up this area it's okay," he said.
– Rene Rodriguez and Kyra Gurney