Client Adds Value to the Miami River
July 20, 2015
Firm Client to Renovate Park and Add River Walk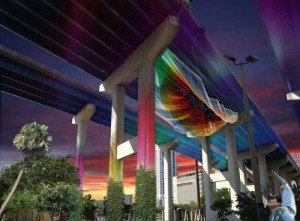 Miami River Jose Marti Park Could Get Big Revamp & Big Art
On Monday, the Miami River Commission reviewed plans submitted by the Chetrit Group to redo Jose Marti Park with plans by landscape architect Raymond Jungles, connecting it by river walk to their neighboring project and adding a massive hanging sculpture to the highway above. This is basically how they plan to spend the required $21 million in public benefits, according to The Next Miami. The sculpture, by artist Janet Echelman, is orbular, ephemeral, and light covered, and would accompany more lighting on the pylons in the river. New park features would include a cleaned up lawn, a new playground, a new exercise area, lush new landscaping, a renovated pool, new entry plazas, of course vastly improved accessibility to Brickell residents, and upgrades that would touch just about every area of the park.    — Published by Sean McCaughan on Curbed.com, Wednesday, July 15, 2015.
Raymond Jungles Revamp of Jose Marti Park Will Be Accessible To Brickell Residents by River Walk
Chetrit Group's River Walk project is proposed to include a renovation of Jose Marti Park by landscape architect Raymond Jungles, along with a new riverwalk to the park. The park will be accessible to Brickell residents for the first time by a riverwalk, which will be built as part of the project. Currently, Brickell residents can only access the park through difficult to navigate side streets. As part of Chetrit's project, the developer will make a public benefits contribution totalling $21 million to permit increased density. The contribution includes the park renovation, along with artwork. The Miami River Commission reviewed the plan at a meeting yesterday.
— Published by TheNextMiami.com on July 14, 2015