Client News: Brickell Motors Long History on Calle Ocho
December 19, 2018
Like many South Florida institutions, the history of Brickell Motors can trace part of its roots to a love of the weather and the ocean. Top Michigan-based Pontiac dealer William Packer so loved fishing in South Florida that in 1955 he purchased the dealership on Southwest 8th Street, partly to be close to the Florida Keys fishing grounds. Primarily, he started a tradition of successfully selling cars that continues today.

Brickell Motors on 8th Street began as Trail Pontiac in 1935 and has seen its share of challenges leading up to present day where it stands-out as a top Miami dealer for Buick, GMC, Honda and Mazda vehicles while also featuring high-end luxury cars at Brickell Luxury Motors. And next year, it will break ground on a new facility next door that will sell and service the latest vehicles from Chrysler, Dodge, Ram, and Jeep.
At the center of Brickell Motors stands Mario Murgado, who purchased the then-faltering dealerships in 2001. By all measures, the business was in bad shape. It was only selling a handful of cars each month and the prior owner (who bought it from the Packer family) had allowed some of the facilities to fall into disrepair.
Murgado bought the business and immediately implemented plans focused on people, the facility and the community.
Starts with people
The company's first three employees were Murgado and his business partners Alex Andreus and Rick Barraza. The trio knew the market from working at another dealership group and quickly increased sales and built an entire new team. Today Brickell Motors employs more than 200 people on its 8thStreet campus and has been highly awarded and praised by automotive manufacturers and leading automobile industry publications, alike.
Create an inviting place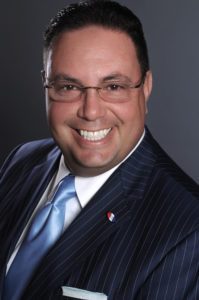 When it came to the Brickell Motors facility, Murgado saw problems both inside and out.
"Everything was poorly lit at night, it was dirty and the back lots had a ton of barbed wire," said Murgado. "From the street, it was not an inviting place and we had to change it."
The inside wasn't much better. Imagine broken ceiling titles, stains on the floors and walls, and old and torn-up furniture. Everything needed to be scrubbed clean and hit with fresh paint just to be presentable.
Murgado and his team got to work. The barbed wire came down (against the recommendations of the local police), new furniture arrived, and state-of-the-art equipment was installed. The new Brickell Motors facilities gleamed.
"When I came to Calle Ocho, I told people that I didn't come here to sell cars," said Murgado. "I came here to spread joy. If I spread enough joy, the cars will sell. But to spread joy, we had to give people a feeling of peace and a feeling of safety."
Part of the Calle Ocho tapestry
A Miami resident since arriving from Cuba when he was four years old, Murgado wanted his dealership to be close to the residents and a good corporate citizen. Brickell Motors contributes to dozens of local charities and has raised hundreds of thousands of dollars for organizations like Camillus House and Nicklaus Children's Hospital. Murgado has served on the Orange Bowl Committee for many years regularly supplies local groups with holiday supplies and toys for kids at Christmas. He even buys hamburgers for the homeless.
"When we got here, we worked closely with the leadership of the city and many local groups," said Murgado. "We are proud to be on 8th Street, and we try to help out everyone in the neighborhood when we can."
Struggles make you stronger
While the overall tale is one of an American success story, it wasn't easy for Murgado and his partners. Shortly after purchasing the dealership, the United States suffered the September 11 attacks, and economic uncertainty crippled the car industry. The manufacturers stepped-in with healthy incentives that kept dealers around the country afloat, but it was a harrowing period. Brickell Motors, already running like a lean start-up, was able to weather the situation.
In 2008, the Great Recession hit the automotive industry particularly hard. The major U.S. manufacturers received bailout funds from the government and, once again, the fate of the industry was murky. Brickell Motors took an aggressive strategy in digital media at that time and was able to keep its market share in Miami while the rest of the industry faced steep declines.
"We worked incredibly hard during the recession," said Murgado. "We never laid anyone off and truly came together as a team and a family to overcome an incredible obstacle."
Sadly, the dealership that began as Trail Pontiac stopped selling Pontiac vehicles when GM discontinued the brand in 2010.
"It was a tough time because we lost what was once our flagship brand," said Murgado. "But GM also awarded us a Buick franchise, so that lessened the impact – and then the tsunami hit."
In 2011, a devastating tsunami struck Japan, dealing a major blow to Honda, one of Brickell Motors' top sellers. Production temporarily ceased on some models and the supply of parts for new cars built in the United States was disrupted. Brickell Motors had customers who wanted to buy Hondas but not enough cars to meet the demand.
"We leaned on our other brands, sourced used cars and made it work for our customers," remembers Murgado.  
Expansion outside the neighborhood
While adding Buick to the 8th Street campus in 2011 and Mazda in 2014, Brickell Motors has also expanded outside the downtown area in recent years, adding Ocean Cadillac on Miami Beach and Audi and Infiniti dealerships in Stuart, Florida. In 2017, the company purchased Honda and Volkswagen stores in Chicago and was awarded a new Bentley dealership in Jacksonville. Future plans also include Alfa Romeo and Maserati dealerships in Stuart and Jacksonville.
A bright future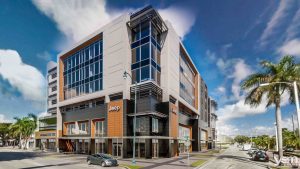 For Brickell Motors, the future is bright on 8th Street. Construction on the new Chrysler, Dodge, Ram, and Jeep dealerships will begin in early 2019, and by the end of 2020, the company will add another 90 employees to the area with average salaries of more than $65,000 per year.
Murgado also sees an exciting future for the entire area. He believes that as Miami evolves as a major cosmopolitan city, it will bring great things to the 8th Street area. The downtown and Brickell areas are expanding and becoming more popular as places to both live and work. This will make the neighborhood more popular and drive more improvements.
"We have been selling cars on 8th Street for 83 years," said Murgado. "And we expect to continue spreading joy for many years to come."
The Honda Dealership That Almost Wasn't
William Packer, one of the first owners of the dealership now known as Brickell Motors, was a member of the "Greatest Generation" that lived through and won World War II. The U.S. auto industry shut down during the war in order to support the wartime manufacturing efforts. Many dealerships didn't survive, and the Japanese attack on Pearl Harbor was a source of great pain for most Americans. When Honda began efforts to sell cars in the United States in 1970, Packer had no interest. Even though owning a Honda dealership required very little investment, Packer thought it was his patriotic duty to avoid the brand.
The general manager at the time, Dan Horvath, thought otherwise. He recognized that there could be a market for the fuel-efficient cars and convinced Packer to give him a little space on the lot for Hondas. Horvath was given one parking space to display one car near the front of the parts department, and the rest of the Hondas were relegated to the back lots.
When the 1973 oil crisis hit, the gas-sipping Hondas started to sell. Still not a fan of the brand, Packer purchased the lot across the street from the flagship Pontiac showroom, placed a small trailer on it for the sales staff, and tolerated the sale of Hondas on 8th Street in the coming years.
Today, Brickell Honda sells more than 3,600 Hondas per year – from a dealership that almost wasn't.
Published December 18, 2018 in Community Newspapers