CLIENT NEWS: A $40 million renovation has turned this former hostel into a Miami Beach gem
November 24, 2021
From the gorgeous tile to the rich room furnishings to the white-washed Spanish-style paseos winding through small, sunny nooks and courtyards, the new Esmé Miami Beach hotel is a tribute to Española Way's past — and maybe a barometer of its future.
The engaging new design of the hotel on the Spanish-Mediterranean pedestrian street, which was built in the 1920s as a Bohemian artists' colony, is not specific to one era. Instead, it harkens back to all of the history that inspired The Miami News to write in 1926: "In all the world, no place so quaint."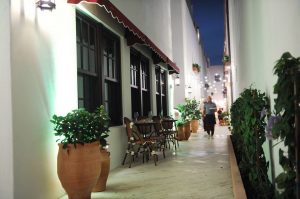 In the 1930s, Al Capone ran a gambling syndicate out of offices in the main building, while 20 years later, Desi Arnaz created a musical sort of empire there. Different decades, different glamour.
"We wanted to bring back some of that charm," said James Stuart, director of developer Infinity Hospitality. "We wanted to have the kind of property you didn't see anywhere else in Miami Beach, because of course, these buildings aren't everywhere in Miami Beach."
So how did a two-and-a-half star hostel known as The Clay Hotel transform into a boutique gem? It took a five-year, $40 million restoration and renovation project and an innovative approach by Jessica Schuster Design, which channeled the spirit of actress/flapper/socialite/Jazz Age icon Louise Brooks as a muse.
The rooms are unique, small but full of personality and eye-catching touches: an old-fashioned phone here, tiny prints on the walls there, courtesy of a friend's grandmother. Capone almost certainly would have approved of the rooms with leopard-print curtains.
The property stretches across eight buildings, including Casa Matanza on the west side of Drexel Avenue, with 145 rooms, a rooftop bar and pool and five original food and beverage concepts, the latter overseen by Lost Boy & Co. co-founder Chris Hudnall and Chef Fabian DiPaolo.
At the stylish El Salon, visitors can dine on tapas-style plates — Argentinian empanadas, Cuban medianoche sliders, Venezuelan arepas — while drinking cocktails made from proprietary spirits. Don't sleep on the gin gimlet. Bar Pintxo offers pub-style bites like octopus with smoked paprika or gilda (anchovy, pickled pepper and olive) and wine, beer or Basque cider.
By day, the centerpiece of The Roof at Esmé is the pool and cabana area. At night, guests can sip sangria, watch evening fall and dine on Modern Latin cuisine. The Roof will also serve something called large-format cocktails called Spirited Jugs, and we are by all means in favor of this.
The bigger question is, of course, how the renovation will affect Española Way itself. Long a magnet for tourists, the street has struggled to lure locals in the past. But new tenants could change things.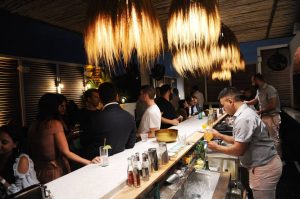 "We kept on hearing the same thing from locals. 'Oh, Española Way — I used to hang out there 10 or 15 years ago,' " Stuart said. "We kept that in mind with our tenancy and retail space and how we conceived our food and beverage. It was important to have a reason for a Renaissance of Española Way."
David Berg, partner and developer in the ownership group Infinity Collective, said that meant starting on the west end of Española Way, where locals tend to congregate. Casa Matanza is now home to The Drexel, a Mediterranean restaurant from the Mandolin Aegean Bistro team. Coming soon next door is the Andalusian-style kitchen and bar Tropezon from Lost Boy & Co. Tropezon's neighbor, Folie, is one of the few spots that already draws locals.
"We had to start west and work our way east," Berg said, adding that the street will soon be home to Japanese restaurant Paper Fish and Kobrick Coffee out of New York. "All these tenants were curated to bring in locals."
Tourists still flock to the east end of the street near Washington Avenue, of course, and that's fine — Esmé Miami Beach is a hotel, after all, a place for out-of-towners to settle in. Berg hopes the new Esmé offers an experience that inspires guests to spend more time on hotel property.
Before, "your hotel experience was your bed and Española Way," Berg said. "We want our guests to have a more quaint experience within our hotel walls."
Published on November 19, 2021 on MiamiHerald.com