CLIENT NEWS: A giant project will bring Target and 550 apartments to Miami's struggling Overtown
February 13, 2020
The gradual redevelopment of central Overtown, the long-neglected heart of Miami's original black neighborhood, will take a giant leap forward with the planned construction of a $350 million mega-project anchored by a Target store and topped by 556 apartments.
The project, the fruit of an agreement between veteran Miami developer Michael Swerdlow and a city anti-poverty agency, would occupy a full city block between Northwest Second Avenue and Interstate 95 at Sixth Street that's been vacant for years. Under the agreement, Swerdlow must restrict 154 of the apartments for rental to low-income seniors.
The plan, which Swerdlow said has full financing from private backers, would represent the biggest financial infusion in history in Overtown, an impoverished, formerly segregated neighborhood that has struggled for decades to attract investment. It would bring the first significant retail in ages to an area of downtown Miami that's virtually bereft of places to shop. The project would generate a projected 1,100 permanent jobs, with hiring preference for Overtown residents.
Swerdlow said Target has committed to building out a ground-floor, 50,000 square-foot store with an integrated CVS pharmacy and a Starbucks. He also has formal interest from the Aldi discount grocery chain and the low-cost YouFit fitness gyms (membership would be free to building residents), and is in talks with a major discount apparel retailer. He aims to round off the commercial tenants with medical offices.
His Swerdlow Group won a bid in 2018 to purchase and develop the city-owned lot, known as Block 55, from the Southeast Overtown/Park West Community Redevelopment Agency. Swerdlow, who developed Dolphin Mall and whose principal partners in the Overtown project include Terra Group, led by developer David Martin, said he expects to close on the purchase of the roughly 3.5 acres of land for $18 million next month.
"When I saw this, I realized it was a retail desert," Swerdlow said in an interview. "So I tried to do what I always do, which is affordable, middle-class retail. What this means for Overtown is 1,000 jobs and convenient, non-ripoff retailers."
Swerdlow said the project aims to capitalize on the resurgence of abutting downtown Miami, Biscayne Boulevard and the old Omni district to the north, as well as the construction in recent years of several publicly sudsidized, high-quality affordable and workforce housing developments in the heart of Overtown by private developers working with the CRA.
New condo and apartment towers have brought an influx of thousands of new residents, but few places for them to do their everyday shopping, he said. The fact that the property will have high visibility from I-95 and has ramp access at its foot is another plus, he added.
BRIGHTLINE IMPACT
Another lure, Swerdlow said, was the launch of Brightline, the new private passenger train service that operates out of a massive adjacent station complex and connects downtown Miami to Fort Lauderdale and West Palm Beach, with a planned extension to Orlando. The Florida East Coast Railway tracks that Brightline uses have long demarcated Overtown's eastern border — the same line that under segregation legally restricted where blacks could live.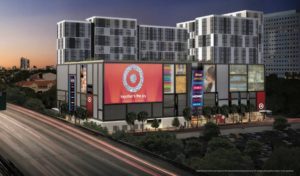 Those tracks long represented a line that many white Miamians — and investors — hesitated to cross. The once-thriving Central Overtown, Once a thriving African American and Bahamian cultural and commercial district of Central Overtown that dates to the city's founding in 1896 was left to languish, becoming a mostly desolate "hole in the doughnut" amid an expanding downtown.
Because Brightline's station now connects to neighboring Metrorail and Metromover stations, Swerdlow and his partners note their project would enable people to live, work and shop in a revitalized Overtown without depending on a car.
"That will have a huge impact," said Aztec Group principal Ezra Katz, the project's main financial backer. "It's a rare situation where you're able to provide affordable retail that will allow the residents in the north of downtown to shop for really needed items without having to travel far, and at the same time create an affordable, live-work environment with easy access to mass transportation."
That central district was cut off from the rest of the neighborhood when Overtown was sliced apart by the construction of I-95 and I-395 in the 1960s, displacing thousands of residents. Overtown has also been slowly drained of population since the end of segregation as many deteriorated buildings were razed and residents sought better living conditions elsewhere.
But that long decline is now in reverse. The Swerdlow project is the largest confirmed to date amid a burgeoning turnaround engineered in part by the Overtown Community Redevelopment Agency. The CRA has used tax revenue generated by new construction within its district boundaries, like new luxury condo towers on Biscayne Boulevard, and its bank of publicly controlled land to lure several private affordable-housing developments in recent years.
The agency is now going after market-rate commercial and residential development like the Swerdlow project by offering land at a discount, in exchange for set-asides for affordable housing and other community benefits. Those include projects such as 3 Miami Central, developed by Brightline on the Overtown side of the tracks in response to a CRA-bid offering. A Publix is soon expected to move into the building, which sits across the street from the Swerdlow site.
SOLESTE GRAND CENTRAL
A block north, a new apartment tower, Soleste Grand Central, is rising on another vacant lot. The building will have 40 units set aside for people with low incomes as well as apartments renting at market rates, the CRA said.
CRA director Cornelius Shiver said it's part of a strategy to boost the prosperity of Overtown and its longtime residents by attracting investment and new renters with a broad mix of incomes, while avoiding displacement — something that's possible because most of the buildings in its commercial heart were razed decades ago. Shiver said it's not gentrification because none of the projects push anyone out.
"We do want to attract disposable income to Overtown," Shiver said. "If you are trying to rebuild a business corridor, you need disposable income in the area. We are trying to brand and keep Overtown, Overtown. That's a challenge. "
Other private-public plans in the works call for development of new clubs, restaurants and music venues to return life to Overtown. The central district was once known as Little Broadway for its proliferation of theaters and nightclubs that drew famed jazz and r&b performers, but only the renovated Lyric Theater from 1914 survives.
The Swerdlow project, designed by Miami-based Arquitectonica, would put the Target store on ground floor, below four levels of parking for 1,000 cars. Above that parking would be more retail space and, potentially, offices, for a total 350,000 square feet of commercial space.
"I have no doubt we will lease all of it," Swerdlow said.
The building's podium would feature large LED billboards advertising Target and facing I-95, and would be topped by an amenity deck for residents with a swimming pool, cabanas and a grassy "family lawn." The apartments would rise over the podium, and a private elevator would take residents directly to the grocery store below.
The CRA deal also obligates the Swerdlow venture to spend $1 million to restore the deteriorated Sawyer's Walk public pedestrian promenade, named after a pioneering Overtown doctor, that runs along Northwest Seventh Street adjacent to the planned project. Swerdlow said he will also add a playground, a dog park and a large tile-mosaic mural to the promenade, while cafes and restaurants in his project would open to the public space.
The project is scheduled for a hearing before the city's Urban Development Review Board on Feb. 19.
Swerdlow said he intends to retain the existing names for the project, using Block 55 for the commercial portion and The Apartments at Sawyer's Walk for the residential piece.
Swerdlow developed Oakwood Plaza, a shopping center facing I-95 in Hollywood in Broward County, and owned Biscayne Landing, now Sole Mia, the massive development on a former a landfill in North Miami, before selling to a partnership of Aventura-based Turnberry and New York's LeFrak.
Katz said Swerdlow took a big risk in identifying and getting the Overtown project off the ground, investing millions to develop the proposal and design. For the partners who joined the effort, he said, it's as much a social mission as an investment.
"This is a big project," Katz said. "It's a huge responsibility. The CRA has been remarkable in terms of cooperation and help. Nothing happens by itself. But nobody wanted to provide capital. Michael gambles with millions of dollars of his own money. He's been focused on nothing but this for several years.
"If it's good for the community and it's feasible, it checks the boxes for being a good investment." – Andres Viglucci