CLIENT NEWS: A Neighborhood Springs to Life Around the Douglas Road Metrorail Station in Coral Gables
May 22, 2023
It's 5 p.m. on a recent weekday at the Douglas Road Metrorail Station, the unlikely hub of a buzzy, dense new urban neighborhood suddenly coming to life in the concrete shadow of the Miami-Dade County transit line's elevated tracks.
Just minutes apart, trains and Metrobuses disgorge working commuters and University of Miami students at the station, which is undergoing a multimillion-dollar overhaul. Free Coral Gables bus trolleys come and go, connecting passengers to the suburban city's bustling downtown or to Miami's historic West Coconut Grove neighborhood across gridlocked U.S. 1. Some people climb on bikes. Others glide through the station on e-scooters.
On their way home, shoppers stop for groceries at Milam's Market, which sits at the base of the newly opened Cascade apartment tower, rising 37 stories from the station grounds. Next door, at the new Belly Fish sushi spot in the companion CORE Link residential mid-rise at 22 stories, restaurant co-founder Jonathan Perlman and his well-staffed kitchen crew serve a couple of early diners and get ready for a rush of takeout and delivery orders.
Across Peacock Avenue, at a tree-shaded pedestrian plaza between Modera Douglas Station's pair of low-rise apartment buildings, lavishly goateed chef Javier Lopez-Rosende sets up a mobile kitchen under a tent for his Javi's Hot Cart for the community's Taco Tuesday night.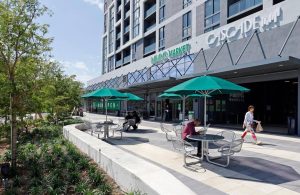 Crystal Vidal and Hadassa Felix, neighborhood residents since October, meet on a wide new sidewalk under a shady arcade and talk pets as they take their French bulldog and standard poodle, respectively, out for an early evening stroll. They join a steady stream of people walking dogs and pushing baby strollers through what not so long ago was a scruffy industrial zone.
"This is night and day," said Felix, a hair-salon owner who grew up in Coconut Grove and recalls walking by rows of automobile body and repair shops on her way to Coral Gables High School nearby. "This is almost a shell shock. This is amazing."
This is the newest, densest and perhaps most extensive example of what Miami-Dade planners, transit officials and elected leaders have dubbed transit-oriented communities — pockets of meticulously planned new high-rise housing and commercial developments at and around Metrorail and other transit stations designed to ease the county's housing crunch, foster small-business development, promote walking and transit use, and help reduce automobile dependency.
At its core, the strategy involves luring private developers by providing land leases to long-underused parking lots and other land at the train stations. The developers then build mostly privately financed projects that produce new housing, while also providing the kind of critical mass of residents needed to support shops, restaurants and other services and amenities close by.
YEARS OF DELAY
Miami-Dade formally approved the strategy back in 1998. Years of litigation over early development deals and other issues significantly slowed its start until around 2015, when developers contracted by the county transit agency began completing some big, mostly affordable and senior subsidized residential projects at Metrorail and Metrobus stations in low-income communities like Brownsville and Liberty City. The county then also put projects out for bid for the Metrorail stations along U.S. 1, including Vizcaya, Coconut Grove, Douglas Road and Dadeland North.
But at Douglas Road, the unusually large size of the redevelopment and the county property — more than 7 acres — has worked in tandem with its prime location, next to historically Black West Coconut Grove and affluent Coral Gables. There's also the plentiful nearby availability of privately owned land ripe for redevelopment, helping propel a growing urban village that extends well beyond the transit station hub.
The county's massive Link at Douglas redevelopment plan, approved in 2016 by the Miami-Dade commission under a winning joint bid by developers 13th Floor Investments and Adler Group, has drawn other developers to the immediate vicinity in the old industrial district, which straddles the Miami-Coral Gables city line and stretches from Douglas Road to LeJeune Road between U.S. 1 and Bird Road.
So did plans for Platform 3750, an apartment building with ground-floor retail, including an Aldi grocery store set to open May 31 on a county-owned site in the Grove directly connected across U.S. 1 to the Douglas Road station by a pedestrian bridge.
Meanwhile, on the other side of the city of Miami's municipal boundary, which runs invisibly through the neighborhood, Coral Gables city leaders have successfully encouraged gradual redevelopment of its section of the industrial zone, starting with the 2001 transformation of the city maintenance yard into the Shops at Merrick Park.
Today, as a result, there are no fewer than nine major new projects on both sides of the municipal line that have recently opened, are now nearing completion or have been newly announced. They join a half-dozen other developments inaugurated in recent years — putting thousands of new apartments and condos, and hundreds of thousands of square feet of commercial space, at the Douglas transit station's doorstep.
CONTROVERSIAL SCALE
Perhaps most conspicuous — and somewhat controversial, given their scale — are the two bulkiest. The gargantuan, wellness-oriented residential and retail Life Time Coral Gables complex occupies three interconnected, elongated towers wedged between U.S. 1 and the Metrorail tracks just south of the Douglas Road Station, and includes a year-and-a-half-old Trader Joe's.
Cascade, the newly inaugurated tower at the station, is by far the tallest building for miles around and plainly visible from suburban yards in surrounding neighborhoods. Its simple modern design, by Miami's Arquitectonica, is meant to draw attention to the station by putting an exclamation mark or "billboard" over it, firm co-founder Bernardo Fort-Brescia said. An arrangement of reflective windows — outlined in colorful lights after dark — cascades like a waterfall from the top of the tower to its base to indicate the station location, he said.
And there's more to come.
Demand for housing in the area has proven so intense that 13th Floor executives are significantly retooling their original plans. They are converting once-contemplated hotel and office components into a pair of supersized residential skyscrapers designed, also by Arquitectonica, as matching companions to Cascade. The first of the two newest apartment towers, at 36 and 37 stories, is now scheduled to start construction next year, with the second expected to break ground in 2025.
That will bring the total number of apartments on transit station property alone to 1,600, 13th Floor managing principal Arnaud Karsenti said. Along with the expanded development scope, Karsenti said, the value of improvements the developer is making to the station and its surroundings as part of the county deal has risen from $12 million to $17 million. That includes new platform surfaces, revamped station elevators and escalators, new bus bays, a public plaza and a short section of the planned Underline path and linear park.
Karsenti noted that public improvements required by the county, which also include wide sidewalks sheltered under arcades, extensive landscaping and drop-off areas at Cascade and CORE for shared-car services and city trolleys, are critical because they make the Douglas Road station surroundings efficient, appealing and pedestrian-friendly, and help weave together individual projects into a cohesive neighborhood.
"We've been talking these buzzwords for a while, but to really see it in action and to see these developments come to life, with the activity around the train station and the trolley, it is really exciting and gratifying," he said. "It's more than following code. It's a real partnership where we are designing neighborhoods."
'DEVELOP WITHOUT MORE SUBURBAN SPRAWL'
Miami-Dade leaders say the projects at Douglas Road should serve as a new model of development for Miami-Dade amid a severe and seemingly relentless housing and transportation crisis.
Though the county has long controlled zoning rules at transit station properties to allow denser construction on them, both the Miami-Dade commission and the Florida Legislature recently approved regulations that will require municipalities to permit taller, denser housing development in broader, so-called Rapid Transit Zones around major public transportation stops and routes, in large part to spur widespread construction of affordable apartments.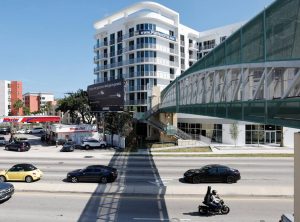 "Density along transit corridors is the very first order of business, if we have to choose a place to develop without more urban sprawl," Miami-Dade Mayor Daniella Levina Cava said in an interview. "We're not a sleepy suburban town. The fact is that as we're finally building out these transit corridors, there is a very clear market for this. These things are filling up fast."
That development model has proven successful in other cities with rail transit, including Denver and the northern Virginia suburbs outside Washington, D.C. It was also an original aim of the Miami-Dade Metrorail system when it began operating in 1984. Initially though, the focus was on commercial development, and it led to the construction of office towers and a hotel next to the Dadeland South station at the end of the Metrorail line.
Eventually, a special county zoning district established near the station produced the privately developed Downtown Dadeland, a compact urban district of condos, apartments, stores and restaurants on the edge of suburban Kendall that was finished in 2005.
County planners say their approach since has been closely tailored to local community needs and surroundings. Thus, in Brownsville, Liberty City and at the Okeechobee Station in Hialeah, for instance, the focus has been on affordable, workforce or senior housing, with retail space to supplement the residential portion.
At the Palmetto Metrorail stop, the line's lightly used northern endpoint in a desolate warehouse district near the town of Medley, the county has approved a 12-story high-rise building with 1,000 units of workforce housing, with some apartments set aside for young adults aging out of foster care.
By contrast, the 616 apartments at Atlantic Station, a project by developer Atlantic Pacific Companies that recently broke ground at the Overtown Metrorail stop, will blend workforce and market rents with a substantial 25,000 square feet of ground-floor retail and restaurant space. The mix will help amplify the historically Black neighborhood's re-emergence as a mixed-income residential and entertainment district, county planners say.
At the Coconut Grove station, Grove Central, a big mixed-use project set for completion by co-developers Terra Group and Grass River Properties by the end of the year, will comprise 402 apartments with a mix of market and workforce rents, and a massive 170,000 square feet of retail space to be occupied by a Target store, a Total Wine and a Sprouts Farmers Market grocery store, among others.
At the Vizcaya Station, Terra scored highest in a bid in 2021 to redevelop 2.5 acres of county property amid some opposition from neighbors to the scale of the plan. Details of negotiations on a final deal remain confidential under the "cone of silence" rule meant to deter lobbying. A spokesman for Terra and principal David Martin said the county is also negotiating with the second-place bidder, 13th Floor, before deciding which of the two developers will get the final bid.
HITTING TRANSIT GOALS
Because of its density and wider influence, though, the emerging Douglas Road station neighborhood could be in some ways the most consequential and diverse in terms of incomes and ages.
So far, county officials and developers say the projects on public property are hitting some of its principal goals.
Transit use at the station, though depressed by the COVID-19 pandemic, is clearly trending up. Total rail and bus boardings rose nearly 10% between November and January, the county transit agency said.
Many new residents are doing without cars. Some UM students, for instance, share apartments and a single car for outings, but take Metrorail one stop south to campus and shop for groceries at the new Milam's, accessible directly downstairs by elevator for Cascade tower residents.
At CORE Link, only about half of residents in the 22-story building are taking parking spaces, said Karsenti of 13th Floor, which gives new tenants a free month of Metrorail passes as an incentive to use transit. At Cascade, 25% of residents signing leases to date — the tower is not yet fully leased — say they don't want parking spaces.
At Platform 3750 across U.S. 1, where 78 affordable apartments were leased first, 15 of the tenants turned down parking, said Lenny Wolfe, principal of developer Cornerstone Group.
"This is something you didn't hear before," Wolfe said. "They are working people making a living. But there are so many employment centers that you don't need a car to reach from the building — downtown Miami, Brickell, the health district, Coral Gables, Dadeland."
That reduced demand for parking means projects at and near transit stations can take advantage of rules that allow developers a reduction in required parking garage spaces, significantly reducing construction costs. The resulting garages are more efficient and less bulky, producing better looking buildings and savings that can translate into lower rents.
At Cascade, for instance, parking spaces in the garage are shared by transit riders, Milam's customers and residents, who pay a monthly fee for a spot.
Some skeptics have said the new projects only will add to already heavy auto congestion because they're adding so many residents to the area, most of whom will drive at least some of the time. And traffic levels have in fact visibly increased.
But Karsenti said he expects car use and parking demand will level off as the county station projects are finished, giving residents more places to go by rail, and as the Underline is completed and transit lines are extended.
"People in Miami are always very nervous about more congestion. It's a little bit of a reverse when you build at a transit hub. It's a little bit counterintuitive," the developer said. "Parking is still important. What we're learning is consumer behavior is pretty slow to shift. People need time. But already if you combine the Metrorail with Uber and Lyft, you can get pretty much from point A to point B."
DON'T NEED A CAR
For Vidal, the new CORE Link apartment resident who was out walking her bulldog on the recent evening, the ability to forgo owning a car was a big part of the building's appeal. She's a recently transplanted New Yorker who never has owned a car and doesn't want one.
A business consultant, she works from her apartment or shared office spaces in the building, which is loaded with amenities like an expansive rooftop pool deck, a social lounge and a gym. She walks to Merrick Park for shopping and dining and uses Metrorail, Metromover and car share to go downtown, as she did recently for a visit to the Frost Museum of Science.
"All the resources are here in one place. As a New Yorker, we can't have cars. We use the MTA," Vidal said, referring to New York's Metropolitan Transit Authority. "So it was the perfect set up for me. Everything is a train ride away."
The other dog walker, Felix, does have a car. She needs it to get to her popular salon, Love 518, on Calle Ocho in Little Havana, which has gained a national following for her skill in hair detangling. Almost everything else she needs is nearby. Her son walks to school. "
I wanted something nice, that's safe and accommodating," she said. "I love it here."
And the rent, she noted, is less expensive than Brickell. But that doesn't mean it's by any means cheap.
A two-bedroom apartment at higher-end Cascade goes for just over $4,000 a month, and studios for $2,500. But some studio apartments at CORE Link are set aside as workforce housing with discounted rents starting at $1,700 for people below certain income levels. Market-rate apartments at CORE start at $2,000 for a one-bedroom.
The planned two new towers will have even more workforce-price rental apartments.
Demand for affordable apartments is so high that the 78 low-income units at Platform 3750 were leased within minutes after becoming recently available, with hundreds of lease applicants left hanging, Cornerstone's Wolfe said.
One reason, he said, is that the affordable and market-rate apartments in his project are identical. But the rents on the affordable units, restricted to families with low incomes, represent a significant discount. An affordable one-bedroom, for instance, goes for $1,088, compared to market-rate equivalents that start at $2,830, Wolfe said.
All residents have access to the building's deluxe amenities, including shared workspaces, a club lounge, yoga room and a rooftop infinity pool. Wolfe said the apartment building, which replaced a Miami-Dade community center, will also incorporate a range of health and human services for the neighborhood.
At the same time, Miami-Dade officials say they plan to significantly expand the number of affordable apartments in the area by redeveloping a low-density public housing project that sits across Douglas Road from Platform 3750. And the Aldi grocer, a value-oriented corporate cousin to Trader Joe's, only adds to the appeal, Wolfe said.
"I think there's gonna be a good symbiotic effect for everybody," he said. "Its going to be a great neighborhood. And Aldi will appeal to the whole community. I think Aldi will kill it here."
NEW SENIOR LIVING
It's not just young people and couples settling in. There are empty nesters and families with kids and, now, the over-70 set, thanks to two big senior living projects — although those come at a premium.
Now under construction and set to open later this year a block from the Merrick Park shops is Belmont Village Senior Living, co-developed with Baptist Health. The Watermark at Coral Gables, which fills an entire wedge-shaped block off LeJeune, opened in March.
Both boast resort-like luxury, with multiple dining options, bars, fitness centers, rooftop swimming pools and concierge services to go along with aging-support options that range from independent living to memory care for those with dementia. At Watermark, starting monthly rates range from $6,195 for independent living to $7,100 for memory care.
The developers, both of them growing national chains, are betting many Baby Boomers will prefer urban, amenity-laden and walkable neighborhoods for their golden years.
"It's a market that is sorely underserved," said Bryan Schachter, chief investment officer for Watermark Communities, which developed the Coral Gables complex with ZOM Living. "Senior housing has been built mostly in suburban locations, and we think the Baby Boomers are going to want to be in the heart of things in an urban location, like Merrick Park, with entertainment and the arts."
And while he doesn't expect too many of Watermark's residents will be climbing aboard Metrorail, the close access to several transit services is essential to the project for another reason — its staff. The building eventually will employ more than 100 people, many of whom Schachter said will rely on transit.
"One of the challenges we face is attracting and retaining staff," he said. "Having the proximity to public transportation is key to our success."
The results are already plainly visible. Along blocks once bereft of pedestrians, especially after dark, it's now common to see people strolling, jogging, pushing strollers and — something once unseen — on foot and carrying bags from Trader Joe's or Nordstrom as they head home.
'NEIGHBORHOOD FEELING'
Miami-Dade Commissioner Raquel Regalado, who lives with her family nearby and represents the district, has embraced the changes. Her district office sits next to the Douglas Road station. She lives with her teenage kids a few blocks away in Golden Pines, an established neighborhood of single-family homes between the Douglas Road and Grove stations.
The growing amount of development, services and amenities around the stations within easy walking and biking distance means she can now ditch her car much of the time. Growing numbers of her neighbors, she said, only have one vehicle.
To her, the expanding world around Douglas Road and Merrick Park outdoor mall means she can enjoy the best of both worlds.
"I moved to the area because I like the walkability, the accessibility," she said. "We like to ride our bikes. I don't drive on the weekends, unless I have to. I walk to the grocery store and to Douglas Park. I started walking to the gym, which is lovely. These things didn't really exist in our neighborhood before.
"I'm a believer. It's lifestyle choice. You get the benefits of the urban piece, but you still get the old neighborhood feeling."