CLIENT NEWS: Brickell's Southside Park To Be Rebuilt & Connected To Underline
August 2, 2021
Brickell's Southside Park is set to be rebuilt with a design by the firm that oversaw New York's High Line.
The park will also be connected to The Underline's Brickell Backyard as part of the rebuild. James Corner Field Operations of New York is the architect of the redesigned park, and also designed The Underline and The High Line.
The plans for Southside Park include:
An enclosed dog run with dedicated areas for small and large dogs
seating areas
water features
opportunities for public art
playgrounds for different age groups
a new basketball court
space for active programming such as movie nights and community sports events
an expanded canopy with new trees, and existing mature trees preserved where possible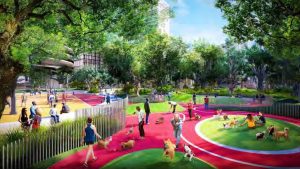 A historic school house in the park will not be touched, but landscaping and hardscaping will be added around it to highlight it.
Plans for the rebuild were submitted to the county in June. Miami-Dade is overseeing approval rather than the city of Miami due to its location in a rapid transit zoning area.
JDS Development Group is funding the park rebuild as part of a land deal to develop the 64-story 1 South Park tower next door.