CLIENT NEWS: Commissioners To Vote On Utilities Deal For Seaplane Base
March 3, 2022
Miami commissioners are scheduled to vote on a utilities deal that would allow a seaplane base to be built in the waters off downtown Miami.
Nautilus Enterprises is developing the new terminal, which will be operated by Chalk's Airline Inc.
Most of the space in the new project will be devoted to restaurant use, despite it being an air terminal.
According to agenda item scheduled for Miami's commission next week, the seaplane terminal will have:
30,483 square feet of full service restaurant
10,209 square feet of airport common concourse area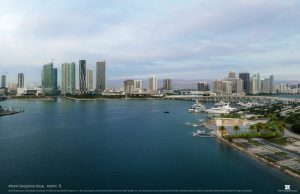 No other uses are included in the utilities deal (areas such as parking normally don't need to be part of a utilities agreement).
The commission vote is scheduled for March 10.
There does not yet appear to be a construction permit pending for the project.
Kobi Karp is the architect.