CLIENT NEWS: Damac plans Hadid Architects-designed condo building on Surfside collapse site
June 13, 2023
The Dubai developer that bought the Surfside collapse site last summer submitted plans to build an oceanfront luxury condo building on the property, designed by Zaha Hadid Architects.
Damac Properties, led by Hussain Sajwani, wants to build a 12-story boutique building with 57 units on the 1.8-acre property at 8777 Collins Avenue, according to a company news release.
Damac closed on the site for $120 million nearly a year ago, one year after the Champlain Towers South condo building collapsed overnight on June 24, 2021, killing 98 people.
The late Pritzker Prize-winning architect's firm created two slightly different building designs, reflecting slightly different Surfside town code interpretations. Renderings show one of the designs is stepped back on the south side of the project, so that portion of the building resembles a staircase-like design of a wedding cake. The second design is of a building without the stepped-back approach.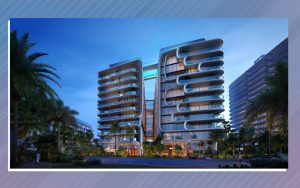 In both designs, the building appears as if it's a pair of buildings, an effect created by a separation in places in the middle of the structure, renderings show.
The units could range from 4,000 square feet to 15,000 square feet, according to the release. Amenities will include a 100-foot-long rooftop pool. It was previously planned as a Cavalli-branded building. A spokesperson for Damac said it is now considering working with another luxury brand.
"As DAMAC assesses the potential profile of their target market, they are re-considering the branding options," the spokesperson said.
Damac could launch sales later this year or in 2024, according to a written response from Niall McLoughlin, senior vice president of communications for Damac International. The company is in talks with brokerages to lead sales and marketing of the condos, he said.
Damac did not share unit prices, but McLoughlin wrote that the developer plans to bring "the most luxurious project ever to Surfside." The nearby Four Seasons Residences at the Surf Club holds the per-square-foot record in Miami-Dade County for condos.
The development would mark the second major project for Hadid's firm in South Florida. Hadid designed One Thousand Museum, a luxury condo tower in downtown Miami, which was completed in 2019. She died in Miami Beach in 2016, while the building was under construction.
Damac's filing comes as family members of the victims have continued to push for a memorial on the site of the collapse instead of on adjacent property. Surfside officials have designated a portion of 88th Street, immediately north of the former Champlain Towers South, for a memorial.
Damac was the sole bidder on the site. Former Judge Michael Hanzman approved a landmark settlement totaling more than $1 billion in the class action lawsuit in May of last year.  Hanzman joined Bilzin Sumberg as senior counsel earlier this year.