CLIENT NEWS: Developer Applies for Permit to Build 54-Story Miami River Tower
July 2, 2021
The developer of the Miami River project has applied for a construction permit for the first building at the complex. The application was applied for on May 19, and the full plans were accepted by the city on June 24.
According to the application, the tower will include:
632 residential units, spread over 1,164,143 square feet of space
12,305 square feet of retail on the ground floor
The tower will rise 54 stories, or 643 feet. Total hard construction cost is estimated to be $205,878,500.
The developer is paying for private provider review of the plans, which is generally much more expensive but also allows for significantly faster approval and construction start.
Meyer Chetrit's GC Miami River, LLC of New York is listed as the owner on the permit. GT McDonald is listed as the contractor.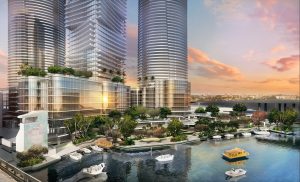 Miami commissioners are also scheduled to vote soon on converting Southwest 3rd Avenue between Southwest 6th Street and Southwest 7th Street in front of the project into a two street.
City staff is recommending approval of the request. A vote is scheduled for July 8.
Michael Dell's MSD Partners has provided a total of $70 million in financing for the project, including an additional $15 million in pre-construction financing granted in March.
The 4.2 million square foot Miami River project will eventually have 5 phases. According to a completed utilities deal, it will include:
1,678 residential units
330 hotel rooms
196,882-square-feet of retail space
98,040-square-feet of office space
30-slip marina
The two tallest towers are planned to rise 649 feet above sea level.