CLIENT NEWS: Developer of Proposed 62-story West Brickell Tower will Rebuild Firehouse Among Other Benefits
June 15, 2020
There's nowhere left to build in Brickell but up, so a real estate developer plans to stack a 62-story condo-hotel-office tower on top of a fire station.
Enough, say neighboring residents who fear they will lose a beloved park and be forced to cope with gridlocked streets and overcrowded schools.
The project by developer Michael Stern, who has built dazzling "super talls" in New York City, would encompass West Brickell's Fire Station No. 4 as the ground floor.
As part of a public benefits agreement struck with the city of Miami, Stern would rebuild the firehouse at 1111 SW Second Avenue into an $8 million state-of-the-art facility, pay $2.2 million for new fire trucks and equipment and contribute $3 million for the refurbishment of Southside Park and its integration with the Underline recreational pathway that will run beneath the Metrorail tracks.
The developer's plans are in the early stages, with construction anticipated to start in 2021. Zoning, permitting and traffic flow decisions are under Miami-Dade County's jurisdiction as the project is part of a designated Rapid Transit Zone, created to increase density around public transportation hubs.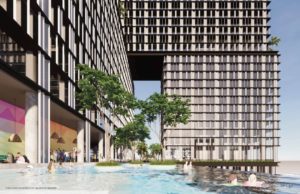 The structure, which resembles a rocket-sized Jenga game, would include 1,000 luxury condo units, 200 hotel rooms, and 250,000 square feet of office and retail space designed to connect with the Brickell Metrorail station.
While the project looks and sounds beautiful, many people who live in the surrounding community are concerned that it is simply too big and will dwarf the neighborhood. They're worried about the fate of Southside Park at 140 SW 11th Street, the only green space in the area, which will be used as a construction staging site for up to three years and then, if preliminary renderings are adhered to, redesigned into something fancy, hard-scaped and unrecognizable.
"The scale is gargantuan," said Sam Joseph, director of advocacy for the Brickell Homeowners Association. "We need more parks and schools, not more luxury towers. People who live in the urban core understand it is a dense area and not suburbia, but they've been promised a great place to live, work, play and learn.
"We'll do whatever is necessary to save Southside Park and if that means human beings chaining themselves to trees and playground equipment, so be it."
Christina Alessi, mother of three daughters, has lived in Brickell for 20 years and said the needs of families are often neglected. She's former treasurer of the Southside Elementary PTSA.
"Southside Park was closed for three years due to soil contamination and we don't want to lose it again," she said. "Gentrification looks pretty but not for the low-income families that will be pushed out. The plans for the park are so pretentious. Kids don't want a concrete jungle. They love it as is. Don't steal what little charm is left in Brickell."
Any decisions regarding the project will be subject to public hearings, said Melissa Tapanes of Bercow, Radell, Fernandez, Larkin and Tapanes, the Miami law firm representing Stern's company, JDS Development Group. The company has offered to meet with residents and seek their feedback. The park will be enhanced and the tree canopy will not be sacrificed, she said.
"We are working collaboratively with county and city officials and stakeholders to ensure this public-private partnership produces an iconic project, like Stern's buildings in New York City and elsewhere in Miami," Tapanes said, citing the 84-story Steinway Tower in Manhattan, Echo Brickell, Echo Aventura and Monad Terrace in Miami Beach.
"We have a great team, including the Underline architect, that is thoughtful in their approach. Our goal is a project that is in harmony with the neighborhood and the neighbors' wishes."
Abby Ape, Brickell resident and also a mom, said friends are thinking about moving north to Aventura, where "they can enjoy more green spaces.
"Don't make it difficult to live in Miami's center city," she said. "We ask that we be respected. Thousands of kids need green space and a playground."
Katie Gant lives in the Roads and works at the University of Miami's medical campus. She praised District 3 Commissioner Joe Carollo for acquiring vacant lots for pocket parks but said the park-starved city must do more.
"As the demographics of the Roads and downtown have shifted, we now have tons of families," she said. "We hope the city prioritizes public spaces. We will not allow developers to come in and hurt our quality of life. I love this area and my neighbors, and I'm going to make sure they have a good place to grow."
Five years ago, residents discussed adding a public school on top of the fire station, but the fire department was opposed for safety reasons and the footprint for a school was too small, they were told.
"So it's too small for a school that would be used from 8 a.m. to 3 p.m. but it's large enough for a 62-story condo-hotel complex?" said Lala Pizarro, longtime Brickell resident and mother of two. "I know everyone thinks Brickell is for young people and wealthy people, but it's a different place than what it used to be. Families live there in droves. They need school capacity. They need classrooms that are not overcrowded."
Residents complain that the agreement between the city and the developer, approved with no discussion by the City Commission April 13 during the height of the coronavirus pandemic, deserved more public scrutiny and input.
"All deals involving city land require competitive bidding, but they get around that by classifying this as an exception for the transfer of land to a government agency because of the fire station," said David Winker, a Miami attorney representing the homeowners association. "Are we really getting a good deal for this prime real estate? We don't even know. It's another example of special deals for special people. It's another example of bad stewardship of our public assets."
Brickell Homeowners Association President Ernesto Cuesta, who has been involved in the effort to recall Carollo, cautioned that neighborhood activism "is the only way to stop these back-door deals."
The historic 1905 First Miami School also sits inside Southside Park. It was supposed to be a place for youth programs when it was moved there but instead is used for storage. One proposal by the developer is to convert it into a food and beverage concession, and residents dread it will turn into a restaurant for the tower dwellers.
Tapanes said the schoolhouse, which is in need of repair, could become a community center for kids and elders with or without a cafe option, such as the combination at Peacock Park in Coconut Grove.
"The developer gets to invest in the park but there are a lot of questions and no guarantees about what will happen to the park and the schoolhouse," said resident Joy Prevor, whose son Dylan loves playing basketball, using the playground and climbing trees at Southside Park. "That's a horrible thing for us to accept as taxpayers and residents. Something very wrong is taking place here."
The city completed a similar agreement with another developer who built a 12-story condo atop the fire station at Coral Way and Southwest 32nd Avenue.
Tapanes said the agreement includes a parking garage, pedestrian promenade, landscaping and streetscape improvements.
"We have a working group that includes representatives from city and county parks and transit and Friends of the Underline and local residents," she said. "Nothing behind the scenes is taking place. We will go through a public process."
Stern wrote in an email to the Miami Herald in March about "a new and positive future for Brickell and Miami at large."
"We have been working closely with the City of Miami to create a responsibly designed project with positive economic and community benefits, including a state-of-the-art new firehouse and a completely rebuilt Southside Park," he said. – Linda Robertson
Published June 13, 2020 in The Miami Herald