CLIENT NEWS: Developers seek to expand Miami-Dade development boundary by 792 acres
March 12, 2021
Several developers want to expand Miami-Dade County's urban development boundary by 792.2 acres to create thousands of jobs at a new business park on the southern end of the county.
Moving the UDB is a big ask, as it requires a two-thirds vote of the County Commission and often draws opposition from activists concerned about over development. However, the application for the South Dade Logistics and Technology District states that it would provide much-needed employment opportunities in south Miami-Dade, where many residents have long commutes to work. The county's main employment centers are further north along traffic-clogged highways.
Aligned Real Estate Holdings LLC, owned by Jose Hevia, and South Dade Industrial Partners LLC, an affiliate of Coral Rock Development Group, filed an expedited comprehensive development master plan amendment with county officials March 8. It aims to expand the UDB by 792.2 acres on what's currently agricultural land and apply industrial/light manufacturing zoning to 353.8 acres of that site, which is the portion the developers have under contract.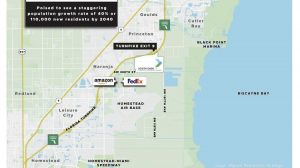 The land is located on the south side of Florida's Turnpike and north of Southwest 268th Street, between Southwest 122nd Avenue and Southwest 107th Avenue. It would be just north of Homestead Air Reserve Base, although it would be closer to Biscayne Bay National Park than most industrial developments in the area.
"Creating jobs across our community is needed now more than ever, especially in South Dade, whose population continues to grow," Hevia said. "With consumer retail logistics becoming increasingly important in today's e-commerce-driven economy and the tech sector looking to South Florida as a hub, the creation of this special district will enable South Dade to meet growing demand for logistics, tech and office space, while creating nearly 25,000 new jobs in the next decade and beyond."
The first two phases of the project, on the 353.8 acres under contract to the developers, would have up to 5.9 million square feet of warehouses, 100,000 square feet of commercial space and a 150-room hotel, according to the traffic study. The project would generate 15,317 daily vehicles trips. Office buildings, showrooms, e-commerce distribution, repair facilities and light manufacturing would also be allowed under that zoning. Residential development would not be permitted.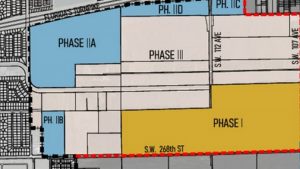 The first phase alone would create 4,400 construction jobs and nearly 8,000 permanent jobs, according to the application.
Miami-Dade has about 2,661 acres of vacant industrial-zoned land, and the current pace of development is about 94 acres a year. However, the application notes, 88% of the available land is in the northern half of the county. South Miami-Dade, which has almost half of the county's population and is expected to grow by 40% by 2040, has only 12% of the available land that's zoned for industrial use. That's a bigger issue now that online ordering has surged, and e-commerce companies are striving to build facilities closer to consumers.
"We're excited about bringing this transformative district to fruition. It represents a generational opportunity to bring a much-needed, major employment center to this underserved community, which now boasts nearly half of the county's population," said Stephen A. Blumenthal, a principal of Coral Rock Development Group and co-owner of South Dade Industrial Partners. "The district will introduce a synergistic mix of new and innovative uses that will both fuel and diversify the local economy, reverse traditional commuting routes, reduce traffic congestion, and encourage investment in South Dade in an unprecedented manner."
The other co-owners of South Dade Industrial Partners are Michael Wohl, Allison Blumenthal, Jillian Blumenthal, David Brown, Victor Brown, Steven Brown, Joe Wieselberg and Judy Wieselberg.
The applicants are represented by attorneys Graham Penn, Jeffrey Bercow, Emily K. Balter, and Juan J. Mayol Jr. – Brian Bandell
Published March 11, 2021 in the South Florida Business Journal