CLIENT NEWS: Developers Unveil Plans For The Gardens at Lincoln Lane
May 10, 2022
Miami Beach commissioners voted last week to move forward with several mixed-use developments to replace surface parking lots serving Lincoln Road in South Beach.
One of the development teams also revealed more details of the project they plan to build, to be called The Gardens at Lincoln Lane.
The Gardens at Lincoln Lane will be developed by a joint venture between Starwood Capital Group, Integra Investments and The Comras Company, under an entity called Lincoln Road Property Owner L.P.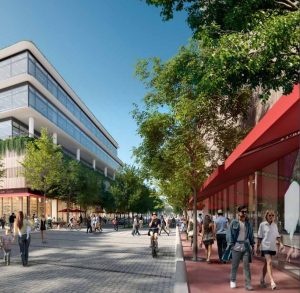 The Gardens at Lincoln Lane will be spread over two surface lots and include:
130,000 square feet of Class A office space
25,000 square feet of street-level retail
425 parking spaces (192 reserved for the public and available during construction)
The lot at 1080 Lincoln Lane North will be replaced for the project (behind the Apple Store), along with the lot at 1680 Lenox Ave (across from Yard House and next to Chotto Matte).
Brandon Haw Architecture is designing the project, along with West 8 Urban Design & Landscape Architecture.
The developers are emphasizing improvement of the street-level pedestrian experience with new retail uses, public seating areas, and a pocket park featuring a signature waterfall.
The buildings will also have sustainability features including energy and water conservation systems, and a green roof that promotes natural cooling and enhances storm water retention.
Negotiations will also move forward with a separate development team comprised of The Peebles Corporation, Baron Corporation and Scott Robins Companies, Inc. for the surface lot at 1664 Meridian Ave (next to Anthropologie).
The Peebles/Baron/Robins proposal is planned to include apartments, office and retail.
Miami Beach voters will need to approve the deals in a November referendum. Commissioners will also need to vote again on the final terms.