CLIENT NEWS: 'End of an era': Zoning approved to replace Norman Brothers market with seniors home
May 20, 2021
The Norman Brothers Produce market near Dadeland likely is nearing its end as a retail landmark after Miami-Dade County commissioners approved a zoning change allowing an assisted-living facility to replace it.
The owners of Norman Brothers Produce are set to sell their iconic market to a developer planning to build an assisted-living facility after Miami-Dade County commissioners voted Wednesday to approve the zoning change needed for the project.
"I used to go there for the milkshakes," Commissioner Sally Heyman said after the unanimous vote, following objections from some nearby neighbors to the size of the planned medical campus where the market has stood since the 1970s. "It's the end of an era."
In the 1960s, the Norman family began selling fruit and vegetables on the site off Southwest 87th Avenue. The business evolved into a produce market that expanded into the more profitable business of selling treats, meats and prepared foods. Milkshakes are a favorite, but the cranberry tuna salad is the top seller at $13.99 a pound.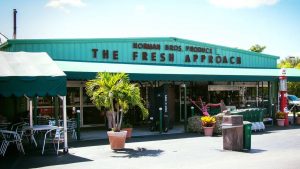 To appease neighbors aghast at losing a favorite shopping spot, developer Michael Garcia-Carrillo modified plans in 2019 to include a potential home for a scaled-down Norman Brothers on the first floor of a new medical office building that would go on the five-acre site.
Still, neither side has agreed to Norman Brothers actually renting space after the current structure is demolished. A lawyer for Garcia-Carrillo's GC3 Development said the plans are limited to some sort of food seller opening there.
"We anticipate there will be a boutique grocer there," said Melissa Tapanes Llahues, a partner at Bercow Radell Fernandez Larkin & Tapanes. "They have not committed to having a Norman Brothers."
At Wednesday's zoning hearing, Tapanes described the pending sale as a reflection of the grocery industry, where high-end grocers like Fresh Market and mainstream supermarkets like Publix continue to cut into a pricey produce market that Norman Brothers once had largely to itself in the Dadeland area.
"For decades, the fresh produce grocery niche made Norman Brothers a household name and staple in Miami," Tapanes said. "The fresh approach has become mainstream. … Smaller businesses like Norman Brothers struggle to compete."
She said the families behind Norman Brothers have a deal to sell the property after the zoning approval, allowing ownership to "monetize its largest asset for its own future."
"This is the American dream," she said.
Neighbors opposing the plan won concessions in recent days.
GC3 agreed to reduce the height of the 115-bed assisted-living facility from three stories to two stories, and then make up the lost space by shrinking a buffer between an adjoining residential development. Neighbors said the higher building, and accompanying spotlights, would impose on homes below.
Emilio Fuster lives in a house north of the Norman Brothers property and said he was concerned about large buildings going up next door.
"Please, please — privacy," he told commissioners.
Raquel Regalado, the county commissioner whose district includes the Norman Brothers location, said she was glad to see a scaled-down project compared to the one that first came before the board in 2018.
She urged GC3 to revise its landscaping plan and replace palm trees with shadier specimens. "I consider palm trees lazy landscaping," she said, while supporting approval for a project centered around elder care.
"One of the challenges facing this board is young people having a place to live and the elderly having a place to live," she said.
GC3 still needs to secure building permits and other approvals to start construction, so Norman Brothers shouldn't expect any immediate changes.
In an Instagram post ahead of Wednesday's vote, Norman Brothers said that while the market is in the news for a pending sale, "WE ARE STILL OPEN!…And, yes, our legendary shakes are still here!!"
Still, Tapanes said 2021 or 2022 would likely be the final year for the retail landmark.
"We're talking months," she said. "Maybe next year."
Published May 19, 2021 in MiamiHerald.com
Photo credit: A rendering of the assisted-living facility proposed by GC3 Development to replace Norman Brothers Produce at 7621 SW 87th Ave (GC3 Development)