CLIENT NEWS: Miami Beach Convention Center Hotel Wins Approval
July 3, 2019
All that's left now: the aesthetic minutiae and the permits.
Arquitectonica's design for the 185-foot-tall, 800-room, $362 million Miami Beach Convention Center Hotel was unanimously approved by the Miami Beach Design Review Board on Tuesday.
The hotel development team, led by developers David Martin of Terra and Jackie Soffer of Turnberry Associates, will still need to return to the city's planning department to hash out details that include the look of balcony railings and privacy barriers, as well as the appearance of a ground-floor welcome center.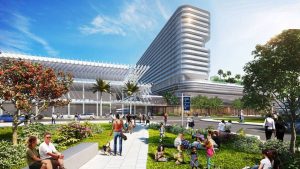 However, there won't be any further need for any other approvals since the city already loosened setback and parking requirements, allowing larger ballrooms and meeting space to be built within the 657,896-square-foot structure.
"I'm excited that the project is approved and ready to go," said Bernardo Fort Brescia, co-founder of Arquitectonica, told The Real Deal.
Miami Beach officials have been trying for more than five years to partner with private developers wishing to build a convention center hotel on city-owned land near the newly renovated Miami Beach Convention Center and the Fillmore Miami Beach at the Jackie Gleason Theatre.
The main obstacle: Miami Beach voters. A proposal by Atlanta-based Portman Holdings to build a 288-foot-tall hotel failed to attract the 60 percent threshold in 2016. In 2013, a proposal by Tishman Hotels to construct a convention hotel on city-owned land was killed by a court challenge.
Finally, in November, more than 60 percent of voters blessed a hotel proposal by Martin and Soffer for a 99-year lease on 2.6 acres of city-owned land in exchange for 3 percent of the hotel's gross revenues. Most of that land consists of a surface parking lot. However, to construct the hotel, a one-story office building at 555 17th Street and portions of the Fillmore's rear will be demolished. Both properties are also city-owned.
Once complete, the convention center hotel will have 320 valet spaces, a parking garage, a bridge connecting the parking area to the convention center, 23,220 square feet of ground floor retail, and a fifth-floor pool deck with restaurants and fitness rooms, according to a report to the design review board from Planning Director Thomas Mooney. There will also be a 5,035-square foot bar and terrace on the 17th floor. Hotel rooms will range from 370 square feet to 1,319 square feet in size. – Erik Bojnansky