CLIENT NEWS: Miami Beach developers nab $345M construction loan for 500 Alton
March 26, 2021
Miami Beach developers Russell Galbut and David Martin scored a $345 construction loan for their planned residential tower at the entrance to South Beach, marking one of the largest loans to close in South Florida during the pandemic, The Real Deal has learned.
Galbut's GFO Investments and Martin's Terra are partnering on the project at 500 Alton Road, formerly home to the South Shore Hospital site. The 519-foot tower, which would be the largest in Miami Beach when it's completed in 2023, is now called Five Park, Martin told TRD.
The Blackstone Group and Apollo Global Management are the lenders, according to Walker & Dunlop, which arranged the financing. Keith Kurland, Aaron Appel, Jon Schwartz, Adam Schwartz and Mo Beler of Walker & Dunlop arranged the loan.
Construction on the tower and the Miami Beach signature bridge that will cross the MacArthur Causeway will begin in April. Martin said the bridge will connect the South-of-Fifth neighborhood to the project and the overall area, including the developers' Canopy Park component, a 3-acre public park that will stretch between 600 and 700 Alton Road.
New Valley is a partner in the planned 48-story Five Park tower. It's expected to have about 278 residential units, including 98 condos and 180 Park Residences, the latter of which may be rentals or condos, Martin said.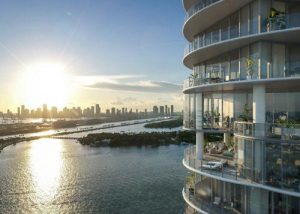 The condos will be on floors 30 to 48. The building will have about 40,000 square feet of amenities scattered throughout the building, including a pool deck on the fifth floor and a clubhouse on the 26th floor. Martin said condo sales will begin within the next few months. Units will range from about 1,400 square feet to 6,000 square feet, including penthouses.
Arquitectonica is designing Five Park and Gabellini Sheppard is handling interiors. The amenities will also include a restaurant, lounge areas, two fitness centers, grand lobby with a gourmet cafe, a library, conference space and a screening room for films.
Galbut has long owned the property. The shell of the main hospital building stood for more than a decade between 5th and 6th streets on Alton Road while Galbut submitted various redevelopment proposals to the city. The hospital was eventually demolished in April 2019, after Galbut and Terra announced they were teaming up to build the project, then called Park on Fifth.
Last year, the developers agreed to settle a dispute with the city of Miami Beach over floor-to-area calculations.
Miami-Dade property records show a $90 million deed was transferred in September 2019 to TCH 500 Alton LLC, a holding company managed by Terra and Crescent Heights entities. Galbut, chairman of GFO Investments, is managing principal and co-owner of Crescent Heights.
Last year, the developers broke ground on the park component, which will feature green spaces, pedestrian and bike paths, a children's playground, an outdoor gym and public art. The park is expected to be completed this summer. – Katherine Kallergis