CLIENT NEWS: Miami Beach Preservation Board Approves Addition for Generator Hostel and Hotel
October 20, 2020
The Miami Beach Historic Preservation Board has approved a new four-story addition to the Generator hotel and hostel on Collins Avenue. Following pushback from the Board (HPB) and the Miami Design Preservation League in July, plans were revised to retain an existing two-story garage structure and move the proposed new structure further south on the property. The new building was also reduced in height from five stories to four.
Generator, which bills itself as a "hybrid between hostels and hotels," opened in Miami Beach in 2018, its first entry into the U.S. market. It offers shared rooms, private suites, and female-only dorms at the Collins Avenue location. Owned by Queensgate Investments, the brand also operates the nearby Freehand hotel and hostel.
The revised plans for the 21-room addition work around three contributing buildings on the site at 3120 Collins Avenue including the former Rendale Hotel (later the Atlantic Princess Condominium) which was restored by Generator. The garage, adjacent to a historic home on the site, currently houses the poolside bar Driftway.
In a letter to the Board, attorney Michael Larkin of Bercow Radell Fernandez Larkin & Tapanes wrote that the new plans reflect a building "designed tastefully to bridge the gap, in both height and architectural styles, between the existing historical structures."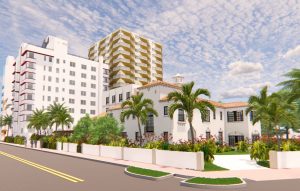 "The Property is unique as it will contain 3 different… architectural periods," Larkin wrote, blending the Medieval Revival style of the historic home and garage and the Art Deco hotel with the contemporary addition.
To accommodate the relocation of the new structure, the current pool will move to the north end of the property. As part of the project, the flagpoles and pole sign on the historic hotel structure will also be restored.
HPB Chair Jack Finglass told the ownership team, "I am, as the expression goes, tickled pink that you kept the garage. I am thrilled beyond words… I am indebted and very, very thankful."
The plans were approved unanimously while a variance to build the new units at less than 300 sq ft passed 5-1 with Board member Scott Needelman opposed. – Susan Askew
Published October 17, 2020 on REMiamiBeach.com