CLIENT NEWS: Miami River Developer Files Plans to Install 765 Foot Tower Cranes
September 28, 2021
The developer of a 54-story residential tower on the Miami River has applied for permission to install two tower cranes to assist with vertical construction.
According to the September 20 filing with the FAA, the two cranes will rise 760 feet above ground, or 765 feet above sea level.
In total, the cranes will be in place for an estimated 18 months.
It is likely that the cranes will become the tallest ever this far inland in Miami.
The tower itself will have a permanent height of 640 feet above ground, or 645 feet above sea level, according to a July filing with the FAA. At that height, it will become the westernmost 600-foot tower ever built in Miami.
Construction is already underway at the site, with piling work now taking place.
The first tower will have 532 residential units.
A second tower will also eventually be built at the same height, part of five phases planned.
When all phases are completed, the project will have:
1,678 residential units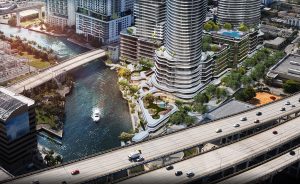 330 hotel rooms
196,882-square-feet of retail space
98,040-square-feet of office space
30-slip marina
G.T. McDonald is the contractor.