CLIENT NEWS: Moishe Mana spent $500 million on Miami's Flagler Street. Can he make his vision reality?
April 25, 2022
On a warm weekday afternoon, billionaire immigrant entrepreneur Moishe Mana, who took control of much of downtown Miami's tattered Flagler Street district in an eight-year $500 million buying spree, arrives to tour the first of his 70 properties to go into construction — the grandly named Nikola Tesla Innovation Hub — in soft Louis Vuitton loafers, no socks.
Mana, who is meeting a reporter and photographer, comes trailing his in-house communications director, a public relations consultant and his own videographer and a sound tech, who follow him and record everything he says and does for his archives and, maybe some day, a documentary.
Moishe Mana carries his own reality with him wherever he goes.
For the next two hours, Mana spins out a vision for a renascent Flagler Street district humming with technology firms, fashion showrooms, dining and entertainment. Once renovations are done, the Tesla building, an office mid-rise now reduced to a skeleton without walls, will be home to cutting-edge firms. On the corner in front, on Southeast First Street, a waterfall will grace an outdoor restaurant.
Down the street, Mana strolls by a row of shuttered storefronts that occupy nearly the full length of the block. Those will be filled by even more tech firms and small businesses. They will be part of Mana Common, a novel sort of capitalistic enterprise in which tenants — or, rather, "members" — will share ownership and profits from the collective venture instead of paying full rent, so they won't be pushed out when property values rise.
There's much more: A couple of blocks away, on Flagler itself, the old, closed-down 777 retail building, a former movie theater, will be turned into space for fashion showrooms, micro-boutiques and studios. Around it, dilapidated, low-scale shopfronts, some of them historic buildings covered years ago with cheap facades, will be replenished for use as shops, work spaces or entertainment venues.
FINALLY STARTING TO EXECUTE A BOLD PLAN
In his loft-like creative studio, atop yet another of the mid-rise office buildings Mana owns, he and a small team of designers show visitors dazzling, fly-through 3-D computer renderings of a neighborhood transformed with glowing workplaces, rooftop lounges, restaurants and event spaces, all of it teeming with activity.
On the wall, a flow chart lists permitting and construction schedules, and budgets in the tens of millions, for a veritable production line of downtown renovation projects.
Twelve years after Mana bought his first piece of what eventually became extensive land holdings in Wynwood, where he is the largest landowner, and eight since he turned his attention to amassing properties in the central business district, he said he's finally, truly nailed down his plan.
Now he's ready to start rebuilding downtown Miami. He's the biggest property owner there, too. "The good news is, the first stage is done. We finished assembling," Mana, who is 65 and an Israeli native, said. "Now I got the critical mass. You need the critical mass to dictate the spirit of the neighborhood. It took time. Now we are here and working, designing, going in for permits.
"It's not easy. I am doing something people have not done. I'm taking on something very big here. I'm putting my money here. I'm putting my life here. I think this is going to be the Western Hemisphere Hong Kong."
On the street, 10 stories below Mana's creative aerie, it's a starkly different picture.
Mana's vacant, blighted storefronts sit moldering, accumulating trash and code citations from the city of Miami. His engineers found serious structural deficiencies in two big abutting buildings he owns, including Flagler Station, a 1980s atrium-style edifice with a food court where Mana had planned a tech incubator. Both buildings were vacated overnight and now must be demolished.
By the end of this year, the Tesla building will boast a new, faceted-glass exterior and new mechanical guts. But it's a year behind schedule, and, amid surging demand for Miami office space by tech and finance firms, there are no tenants signed. At least three prospects that Mana had lined up have backed out, including financially troubled Miami International University of Art and Design and tech firm Plug and Play, though Mana said there is high interest from healthcare tech innovators and others.
At some of his office buildings, entire floors sit vacant. The 777 building, formerly a lively hive that Mana had filled with artists and arts organizations, has been vacated and gutted in preparation for conversion into a fashion showcase.
Partly as a consequence, sidewalks around Mana's properties, some occupied by homeless people, are otherwise largely deserted.
IMPATIENCE WITH MANA BUILDS
Surrounding property owners, some of whom are moving briskly with new projects of their own, wonder what's taking Mana so long. Some are growing impatient, worried the stretches of vacant properties are holding downtown back.
"Everyone is concerned," said Yair Levy, who is opening a new jewelry center in a once-dilapidated commercial building in the district. "Moishe has a very good idea. Any new buildings will impact my project in a good way. It will make the area more exciting. I [would] like to see him start building new buildings, the sooner the better."
Some worry Mana, who parlayed a single van into a moving, storage, document management and warehousing empire, has bitten off more than he can chew, and that having a vision is not, by itself, enough.
"Renderings are a piece of paper," said Tony Arellano, partner at the brokerage firm Dwntwn Realty Advisors. "The proof is in the pudding. At the end of the day, he's assembled so much land that it's all about feasibility."
Arellano added: "There's taxes, debt, maintenance, functionally obsolete buildings. If buildings are not properly maintained, they fall apart. He has a huge burden to carry. Sometimes a seven-pound cheeseburger is too big. I am a big fan of having the right-sized cheeseburger."
Michael Lynott, a lawyer and tenant at Mana's Biscayne Building, on Flagler next to the Miami-Dade County Courthouse, said Mana has the right idea for the downtown business district. But Lynott and his staff find the lifeless streets and the homeless people who occupy empty sidewalks and shuttered shop entryways "a bit disconcerting," especially after dark. He would nonetheless like to stay if the rent is right, and he's now trying to decide whether to extend his lease with Mana after it expires later this year.
"What he's attempting to do is transform the area for something else. We're in that transition period," Lynott said, before adding: "Yes, I would like it to be faster. If what he's envisioning happens here, it's going to change downtown."
But can Mana actually pull it off? One longtime Mana ally and adviser, prominent Miami architect Bernard Zyscovich, said the answer is still up in the air.
COUNTLESS REVISIONS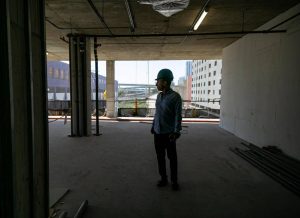 Zyscovich designed the Tesla building renovation and produced countless architectural schemes, rough sketches and conceptual plans for Mana, only to see him constantly change his mind and ask for revision after revision, and then scotch those, too.
Mana, who is rich and spread thin across many ventures, seems unconcerned by costs and fully consumed in conceiving and reconceiving projects, Zyscovich said. He wonders if Mana is willing to shift his focus fully to construction, a process that can be lengthy, tedious and frustrating, and requires compromises an idealist may not be willing to consider.
"I love the guy. He's fascinating. He's self-made. He's an avid reader. He gets inspired by ideas," said Zyscovich, who has traveled around the globe with Mana to make presentations drumming up investment and interest in projects in Wynwood and along Flagler.
"He has assets. He has resources. He has consultants. The question is, does he have the will? He says he does. But it's a very heady, idealistic objective. Is he willing to allow for assistance, compromise, for yielding on his ideas? Getting to the physical reality has been very challenging."
The issue is not that Mana lacks the ability to realize his idealistic vision, but that he may prefer endless tinkering to putting it up against what can be brutal reality, especially in Miami, the architect said.
"Moishe does not want to be a developer," Zyscovich said. "I realized what he really enjoys is the philosophizing and the imagining. He is constantly churning. He loves that process. It's a never-ending cycle of reconsideration that's, frankly, indulgent."
In all the business meetings in Dubai, Korea and other places, Zyscovich said, Mana was seeking big investments, hundreds of millions of dollars.
Mana insisted that, instead of investing in specific projects, backers put their money into Mana Common, an umbrella enterprise that would hold downtown Miami properties, provide financing to build up members' individual businesses, and own a piece of those ventures in exchange — a process similar to venture capital firms backing fledgling startups and taking shares in them.
Prospective investors were intrigued, but none bit, Zyscovich said.
"He's not driven by what other people are driven by. He's really trying to invent a new way of doing things. It's a Utopian thing in a place that's not Utopian," Zyscovich said.
But, he added, the vision is sufficiently refined that, "if he can find someone to invest, it will be flash and go."
In several lengthy interviews, Mana said he pivoted to renovating his properties after failing to persuade anyone to invest in the Mana Common venture, hopeful that he will eventually hook investors into that broader communitarian vision. In the meantime, he and his assistants say he has secured millions in conventional loans and lines of credit for construction.
People familiar with his approach say Mana has also capitalized on low interest rates and rising property values to refinance loans, extracting cash to buy more properties. At the same time, Mana has sold "non-core" assets in his other businesses, including warehouses and his operation in China, to raise money for his Flagler ventures, he and his associates say.
"Everybody believes in what I do, but they don't want to put money in it. So I backed off and started concentrating on construction," Mana said. "I don't worry for a second about the tenants. You build it, they will come."
The doubters, Mana said, just don't understand: He's not interested in knocking down the old downtown buildings and erecting towers, noting the zoning for Flagler allows 60-story skyscrapers. That would be too easy. He prefers the challenge of rehabilitating the city's original main street, preserving its historic look and intimate scale, a place unlike Brickell or Wynwood, with its own history and authenticity, but enhanced for the tech age.
"I'm doing extra not to lose the identity of the neighborhood," he said.
"We are social activists as well. The idea of investing in the neighborhood, with the tenants, in the tenants, is an idea I'm trying to promote here. The traditional developer invested only in the building. I look at it as a whole.
"It's going to take time, and I tell people this is not a regular condo where there is a formula. You think I'm happy to see it empty and paying the taxes and paying the interest? No, I'm not. But you need to stick to your guns and do what you want to do. I have a vision. I have an idea. If you don't like it, you have a property here? Sell it. Walk away. What's the rush? They can criticize as much as they want and time will tell."
One associate, Mana director of communications Albert Maloof Berdellans III, said no one should underestimate Mana: "For all that he's hard to understand, Moishe Mana is a genius."
GOODBYE ISRAEL, HELLO USA
Mana was never given much of anything. He was born in Israel, outside Tel Aviv, to impoverished Sephardic Jews from Iraq. His father at first earned his living with a horse-drawn vegetable and fruit cart outside Tel Aviv. Moishe would accompany him on his rounds.
Mana said he didn't realize how poor his family was until he went into the Army for his mandatory three-year service. But Mana, who grew up speaking Hebrew and Arabic, was unhappy with Israel. His dark skin and Sephardic heritage made him a target for discrimination, and he was repelled by the Israeli government's treatment of Palestinians.
So after just a year of pre-law studies, he dropped out and flew to New York for a new life in 1982 at age 23, never having been on an airplane before. "To me, America was New York. The truth, I was really clueless. I landed with no plan, nothing," Mana recalled. "I felt a stranger within my country. I just didn't want to be in Israel. We grew up very poor. But that's what made me strong. I said, 'I'm going to succeed, and nothing could stay in my way.' "
He started out washing dishes, then got a van and was hired as a mover, working day and night. The business grew into Moishe's Moving, the biggest and most familiar moving company in New York. Mana eventually branched out into the more lucrative storage and warehousing business. He bought warehouses cheaply, upgraded them and amassed holdings across the country, Latin America and China.
He began specializing in storage for fine wine and art, paper documents and, later, digital document management. Bertellans said Mana owns or has interests in thousands of companies. Today, GRM Information Management, a company Mana founded and still owns a significant share of, claims $100 million in annual revenue.
In the 1990s, Mana was among the earliest investors in a then-raw Meatpacking District in Manhattan. With partners, he converted an industrial building into Milk Studios, a venue for photo shoots and events. He has since sold his interest in the studios and an offshoot, Milk Makeup. Then he branched out into art, converting a collection of former factories and industrial sites in forlorn Jersey City, New Jersey, into a massive, money-making full-service center for art, Mana Contemporary, that encompasses studios, exhibition spaces, art storage, conservation, crating and shipping — even a foundry for large-scale sculptures. Mana Contemporary now has an outpost in Chicago.
But for a decade, Mana said he "lost" himself, going out, neglecting his businesses, before regrouping. He sold Moishe's Moving, leaving it in the hands of former employees. He tightened the ship at his other companies. And he discovered Wynwood.
Mana, who had bought a horse farm in Boca Raton and often went to South Beach for fun, was looking for a warehouse in Miami when, he said, he "stumbled" across Wynwood, then a mostly derelict, graffiti-marked industrial wasteland starting to win a reputation as a haven for artists and galleries.
In 2010, he picked up an abandoned property, an industrial building erected for a trade hub but never occupied, for a bargain $5 million. He converted the collapsing buildings into Mana Wynwood, an event and exhibition space, convention center, and live-music venue. He began amassing land around it, when property in the district was still cheap. On one piece, he opened Wynwood Marketplace, an outdoor food and vending bazaar that was meant to be temporary, but has remained in place for years.
He conceived an ambitious use for his Wynwood holdings: a giant trade center linking Latin America and China. Mana worked on the venture for years, traveling and going on trade missions, while winning city approval for a massive special zoning plan that would allow him to build big.
And then, he said, "Trump happened." The trade war former President Donald Trump launched with China, which the Biden administration has not eased, stalled his plan. He has recalibrated with a more modest plan for a hotel and offices.
"So much money I spend on this," he said. "I was so frustrated with Trump."
Wynwood hasn't been smooth sailing for Mana in other respects. Mana launched a very public "Save Wynwood" campaign, after he clashed with other property owners who successfully pushed for extensive new residential construction in the neighborhood, a vision he said will push outdoor music and other events like his out of the neighborhood, killing its vibe. Both sides have reached an amicable cease-fire.
And he's clashed with the city of Miami, whose inspectors have targeted his venues for what he claimed is overzealous, capricious and prolonged building code enforcement that has forced him to cancel events at a significant cost. While he acknowledged that code violations existed at the Convention Center and an adjacent venue, a former RC Cola bottling plant, he said he's spent some $7 million since 2018 on upgrades. The city keeps demanding more "nitpicking" changes, he said, adding: "It makes me sick to my stomach."
'I'M ALL IN FOR MIAMI'
Mana insisted his Wynwood expansion "is not on hold." But downtown Miami now has his full attention. He moved his offices to Flagler Street, and spends most of his working hours there. He is fascinated by the history of downtown, the place where the city was founded and first developed by railroad magnate Henry Flagler.
Once the commercial and leisure center of Miami, the central business district had deteriorated considerably when Mana bought his first property there in 2014. Vacancies were multiplying. Its aging stock of mostly low-scale buildings had been owned for decades by families that invested little in upkeep and housed mostly discount shops peddling electronics and inexpensive goods to Caribbean tourists.
Mana quickly saw the potential and began snapping up properties, said Mika Mattingly, the real estate agent who brokered most of his downtown purchases. Mana walked, toured, studied buildings in scores of Sunday visits, she said.
"I had heard so many stories about him. I was surprised by how congenial and friendly he was," Mattingly said. "As soon as he realized there was a downtown, he knew he was going to dominate it. When he was walking it, it reminded him of the Meatpacking district.
"We spent Sundays driving around town. He said he was the best driver. He's the worst driver. He stops the car, steps out and looks at buildings, doesn't care if other drivers are behind him. He plays Arab music. I spent so many Sundays feeling car-sick. It was great."
Mana charmed reluctant owners into selling to him, she said. "He's a master dealmaker. Some of these families hadn't sold in hundreds of years. He would be the reason why the deal would happen. He's very sincere. He's very curious about people's lives, from the doorman to the CEO. The guy can remember your birthday. He'd walk down the street, pass someone he met years ago and then yell out happy birthday," Mattingly said.
His critics, she said, "have no idea what's going on. He's making moves. He's building a city. He wants to have the vision in full."
Mana never drove a hard bargain, nearly always paying the asking price, Mattingly said. But he knew what he was doing. His purchases drove up neighborhood property values.
Sergio Rok, whose family once owned much of Flagler Street and sold many holdings to Mana, said Mana deserves plaudits despite his slow pace. Other owners like himself — his family retains some 13 properties — have already benefited, he said.
"Moishe is the primary reason why the values of the CBD (central business district) have gone up," Rok said. "You would love to have everything commercially developed, because it would bring up the value. But the value we see today went up because Moishe was buying most of the buildings at prices that in the past we have not seen."
Mana's associates say he still retains ownership of a vast warehousing empire, more than enough to shore up his ambitious Flagler project should the economy falter.
Mana himself is coy.
"I don't know how it has worked out," he said with a small smile. "I sold some businesses, I mortgaged some stuff. I sold this, I juggled and maneuvered and it worked out."
Some speculate Mana will eventually flip his properties to realize another fortune. He vows he never will.
"It's not within my character. I love what I'm doing here. It's challenging. Many times it's frightening. It takes a lot of courage," he said. "I came to America with nothing, OK. This idea I can do this, and make a better world and help people, that's a gift for me. I don't take with me the money when I leave [this world]."
Whether it makes or breaks him, Mana vowed, he is ready to impose the reality in his head on downtown Miami.
"I ask myself why I am doing it. I have learned there is no answer why. Everyone has his own mission in life. I'm all in for Miami. Downtown is the future of Miami. We can make it the coolest neighborhood in America," he said.
"If it works out, I'll be glorified. If it doesn't, I'll be cursed out. But I'm going for it."