CLIENT NEWS: Piling Complete, Excavation To Begin At Miami's Westernmost 600-Foot Tower
April 7, 2022
The general contractor for the 54-story Miami River tower in Brickell says that piling work is now nearly complete. Contractor G.T. McDonald has confirmed that excavation at the site is set to begin this month.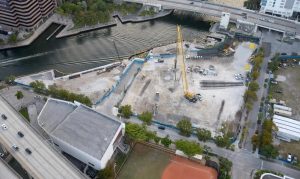 A tower that will rise 640 feet is now under construction. Later, multiple other towers are planned to rise at the site.
The first phase is being funded by a $310 million construction loan from Madison Realty Capital. A total of 632 apartments, retail space, and a public promenade on the river are included in the first phase.
When all phases are complete, the project will have 1,678 residential units, 330 hotel rooms, 196,882-square-feet of retail space, and 98,040-square-feet of office space.