CLIENT NEWS: Revealed: 3 Towers Proposed at Former Miami Arena Property
June 20, 2023
Plans have just been submitted to the Urban Development Review Board to build three towers at the former Miami Arena site.
Three towers are proposed to rise 615 feet, 589 feet, and 577 feet, with the tallest at 54 stories.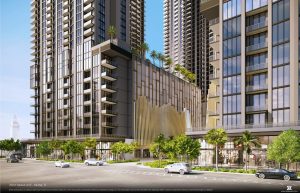 The proposal includes:
2,346 dwelling units
30,535 square feet commercial
2,078 parking spaces on level 2 through 8 (parking garages to be partially lined with residential)
Outdoor amenity decks and indoor lounges are planned for the rooftops of all three towers. Even larger pool and amenity areas are planned above the parking podiums.
A large ground floor supermarket does not appear to be a part of the plans as once shown. Instead, smaller retail spaces are planned.
Kobi Karp is the architect.
Witkoff is the developer.
The UDRB meeting is scheduled for June 21.