CLIENT NEWS: Spotify to Open a Headquarters Office at the Oasis in Wynwood, Which Will Open Later This Year
March 5, 2020
The developers of The Oasis in Wynwood have announced that Spotify will anchor the project with a new headquarters office.
The Oasis is under construction. It is scheduled for completion in late 2020, developers announced last week.
The project will include an outdoor food hall featuring multiple food and beverage concepts around a 35,000 square foot heavily landscaped courtyard. There will also be a stage with nightly live music, and a bar. A 75-foot tower will feature rotating art installations.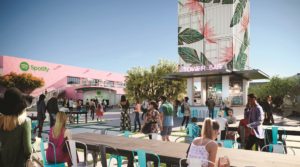 The Oasis will also have 17,000 square feet of retail.
Spotify will occupy 20,000 square feet of space, where up to 100 employees will work. The company is moving from a much smaller office in Brickell, and an incentives deal last year with Miami-Dade stated the new office will become the Latin America HQ for the company.
"We are thrilled that Spotify is leasing space at the Oasis and are very happy to have played a role in making the vision of Wynwood as a best in class tech-hub become a reality," said Erik Rutter co-founder of Carpe Real Estate Partners, the developer of the project.
"Wynwood is still in its infancy, and we are very excited to continue to watch the submarket mature. We feel that building a creative campus that attracts the likes of Spotify is the exact type of innovation that Wynwood needs to reach its full potential," said David Weitz, co-founder of Carpe Real Estate Partners.
Brian Gale and Andrew Trench of Cushman Wakefield represented Carpe Real Estate Partners in the lease. JLL represented Spotify.clie