CLIENT NEWS: Two Tallest Towers Ever Proposed South Of Brickell Get New Renderings
December 21, 2021
Developers 13th Floor Investments and Adler Group have revised plans to build two 39-story towers next to a Metrorail station.
The twin proposed towers, which are part of the Link at Douglas megaproject, could become the tallest south of Brickell. A submittal in August showed them topping off at 444 feet above ground.
The previous tallest south of Brickell was also at the same development – a 36-story, 393-foot tower called CASCADE, which has topped off. A 22-story tower in the complex called CORE is also now open.
"Link at Douglas will be a walkable residential neighborhood, a commercial district, and a transit hub all wrapped into one, making it an economic engine and a preview of what urban development will look like in the Miami of the future," the developers said in a statement.
The two newly proposed Link at Douglas towers are each planned to rise 39 stories, or 444 feet.
The two new towers are proposed to include:
854 residential units
84,160 square feet of office
3,385 square feet of commercial uses
1,166 parking spaces
Arquitectonica is the architect.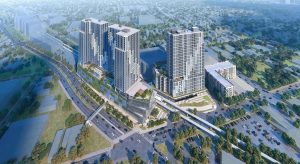 The proposal is aligned with Miami-Dade's approved zoning for the property, according to a statement from the developers.
"In building a mixed-use district at this site, we will create a critical connection point that advances the County's Smart Plan. The County understands that bringing people and density closer to transit relieves traffic congestion, boosts ridership, enhances resiliency, and unlocks new housing options for locals," the developers said.