CLIENT NEWS: Witkoff Planning Downtown Miami's Biggest Residential Project Ever
January 18, 2022
Developer Witkoff Group is planning downtown Miami's biggest ever residential project by unit count, according to documents filed with planners yesterday.
The project will also include a very large office component, along with retail space.
It will be built on the former Miami Arena site at Miami Worldcenter. Witkoff Group and Monroe Capital acquired the 4.7-acre property for $94 million in July 2021.
The project is proposed to include:
2,195 high-rise residential units
49,999 square feet of retail space
540,000 square feet of office space
A supermarket appears likely to be included – there is a large 40,000 square foot space set up on the ground floor, with a typical grocery market configuration.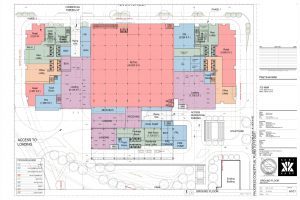 A total of 34 elevators appear to be shown on the plans – 12 for office, 18 for residential, and 4 for retail.
The plans also show the towers will be built in two phases.
Two of the towers each have both residential and office lobbies. There also appears to be a third with only a residential lobby.
Worldcenter recently signed a legal agreement with Witkoff to allow for office to be built on the property, which was formerly prohibited.
The Pre-Application was submitted to Miami-Dade planners on January 12 for review, and is marked as being conceptual.
Kobi Karp is the architect.