CLIENT NEWS: Witkoff, Swire, Related, Eden, Dermot and Jenny Bernell gain project approvals
June 27, 2023
Several big name developers scored design approvals for major projects in Brickell, Overtown and Wynwood.
On Wednesday, the Miami Urban Design Review Board handed out unanimous yes votes to a proposed office tower at Brickell City Centre by Swire Properties and New York-based The Related Companies; a three-building apartment complex planned by New York-based Witkoff and Chicago-based Monroe Capital; and a St. Regis-branded condominium by Related Group and Integra Investments, both based in Miami.
The board also approved designs for two Wynwood projects proposed by Clearline Real Estate, led by former Kushner exec Jenny Bernall, and a joint venture between Coconut Grove-based Eden Multifamily and New York-based The Dermot Company.
700 North Miami Avenue and 771 Northwest First Avenue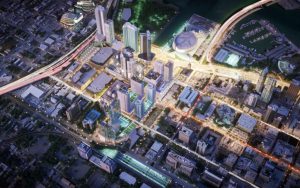 On the site of the former Miami Arena, Witkoff and Monroe are proposing three apartment buildings rising 577 feet, 589 feet and 615 feet, according to a site plan. The entire complex would have about 2,350 rental units, 30,500 square feet of commercial space and almost 2,100 parking spaces.
In July 2021, Witkoff and Monroe paid $94 million for the 5-acre site.
"We believe there is market demand for the full 2,346 units and the ground floor retail," the joint venture's lawyer Melissa Tapanes told the review board.
Board members had very few critical comments about the project, which is designed by Miami-based Kobi Karp Architecture and Interior Design.
"Architecturally, the project is very elegant," said board chairman Agustin Barrera. "One of the challenges with this site is how do you get so many units and not overcrowd the site."
700 Brickell Avenue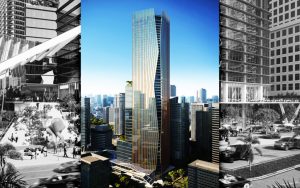 The board gave the greenlight for Swire and Related Companies, led by Miami Dolphins owner Stephen Ross, to move ahead with a 1,000-foot office tower as the second phase of Brickell City Centre. The proposed building would be the tallest commercial high-rise in Florida.
Floor plates for office suites will range from 40,000 square feet on taller floors, to 60,000 square feet on lower floors, filings show, with the building capped at 2.85 million square feet. The "intent is to attract significant finance and technology firms," said the joint venture's lawyer Spencer Crowley. "We worked with the city to accommodate what they are looking for, which is really larger office floor plates."
The project is designed by Miami-based Arquitetonica.  "I think downtown [and Brickell] has long been waiting for an office building of this quality and caliber," Barrera said. "The connectivity to the rest of Brickell City Centre is very dynamic."
1809 Brickell Avenue
The board also granted waivers sought by Related Group, led by chairman Jorge Pérez and his sons Jon Paul and Nick and Integra, led by Nelson Stabile and Victor Ballestas, for the joint venture's proposed St. Regis Residences Miami. The partnership is proposing a 46-story tower with 152 units on a waterfront site.
Wynwood projects
Also receiving waivers for 30 percent parking reductions are a planned mixed-use project and a proposed apartment building in Wynwood.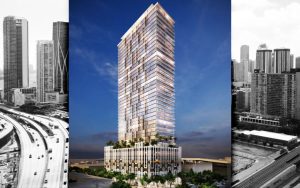 The mixed-use project is being developed by New York-based Clearline on a development site at 2010 North Miami Avenue the firm acquired for $19.1 million last year. In addition to the parking reduction waiver, the board also approved reducing the size of the project's multifamily units to 495 square feet from 550 square feet.
The review board also gave an apartment project proposed by Eden and Dermot a thumbs up. The joint venture is proposing a 43-story tower with 430 units and 455 parking spaces designed by Kobi Karp. Eden and Dermot are under contract to buy the 0.7-acre site at 1018 North Miami Avenue owned by Park West investor Michael Simkins.