Crane Watch map expanded to Miami Beach, 52 development projects added
October 19, 2018
The Business Journal's Crane Watch, an interactive map of development, has been expanded to Miami Beach.
The map has 52 projects in Miami Beach that are either under construction or proposed. Click on each point on the map for information about the specific project, including a link to recent Business Journal coverage.
The project total includes 17 multifamily, 14 hotels, nine retail, and nine mixed-use. They combine for 1,693 hotel rooms, 695,605 square feet of retail, a net increase of 1,465 residential units, and 11,062 square feet of office space.
Of 52 projects, 16 are under construction and the rest are proposed. In addition to the expansion of both the Miami Beach Convention Center and Mount Sinai Medical Center, the projects under construction will add a combined 559 hotel rooms, 301,532 square feet of retail, and 329 residential units.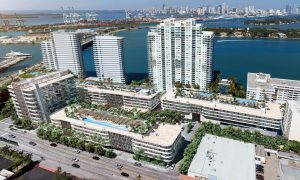 Miami Beach-based Crescent Heights* is the most active developer in the city with five projects in the pipeline. So far, the only one under construction is the Baptist Health South Florida-anchored building along Alton Road.
"Miami Beach is still a magical place," said Crescent Heights President Russell Galbut, who has lived on the beach for decades. "There is really nothing like our island. We are really the world's vacation land."
Galbut said the city's parks, diverse culture, great weather, museums and artistic venues have made it a strong drawn to both tourists and residents. Galbut hopes to break ground later this year on a Whole Foods Market-anchored retail center on Alton Road and 1212 Lincoln, with a CitizenM hotel and retail.
While these factors have drawn many developers to the city, actually building a project can be a major challenge, he said. Miami Beach's zoning codes don't allow residential units smaller than 550 square feet, and each new building must average at least 800 square feet per unit. That, and the requirements for many parking spaces, makes it difficult to develop apartments for working-class residents in the city, he said.
"Unfortunately, we are losing longtime residents and homesteaded residents," Galbut said. "We have to figure out how to bring that back and how to increase the inventory of rental apartments. The rents have to be higher because of the requirements."
Crescent Height's 600 Alton Road is the largest multifamily proposed in the city at 323 units. While it's design has been approved, Galbut said he wants to work with the community to create a "parks and recreation" component for both 600 Alton Road and his neighboring site at 500 Alton Road.
Sea level rise has also become a concern for developers, as financial institutions want to know how a project would withstand the rising water level and flooding before they extend construction loans, Galbut said. That makes it difficult to build below-ground parking and mechanical elements.
"To build on Miami Beach is more expensive than anywhere else," Galbut said.
And yet, developers keep coming up with new proposals.
The Crane Watch map now has 276 projects covering all of the cities of Miami and Miami Beach. Additional areas of South Florida will be added in the future. – Brian Bandell
*Crescent Heights is a Bercow Radell Fernandez & Larkin client
Published March 12, 2018 in the South Florida Business Journal