Firm Client Opens Its Doors
October 12, 2018
Even locals will want to check out this new hostel. Don't miss.
A pair of cozy Mid-Century Modern rockers sits on the terrazzo floor. A pair of black leather chairs flanks an op-art image of bikini-clad bodies. Curvy banquettes invite convivial conversation.
With its billiards table, leather couches and outdoor mural by South African artist Chris Auret, this could be any smartly renovated Miami Beach hotel. But with beds in quad rooms starting at $25 a night, Generator — recently opened in Miami Beach — is clearly not your typical boutique hotel.
Nor is it your typical hostel. In its first U.S. property, the popular European brand known for affordable, design-savvy accommodations in enviable city-center locations has amped up its fashionable yet spontaneous (think impromptu yoga session and rap contests) style.
Along with dorm rooms featuring en suite bathrooms, Generator Miami Beach offers private double rooms — with private bath, of course — and one-bedroom suites luxurious enough for a millennial-minded executive. Its casual restaurants feature farm-to-table cuisine and craft cocktails designed by one of Miami's top bartenders.
And thanks to the mid-Beach location at 3120 Collins Ave. across the street from the hotel Faena, all rooms have water views: the ocean to the east, Indian Creek waterway to the west. The beach is just across the street.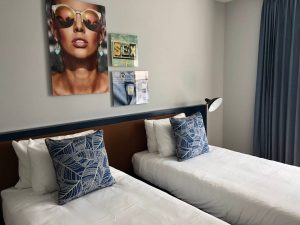 "It's not what people imagine as a hostel," said Generator CEO Alastair Thomann.Guests here are likely to mirror those at Generator's 13 European city locations: millennials, Gen Z travelers, retired baby boomers, families, young cool corporates — basically anyone more inclined to hang out in the Instagram-ready lobby than cocoon in his or her room. About 65 percent of the 105 rooms are private; 35 percent are dorm rooms.
"The brand is about the social experience. The bedrooms and dorms are almost secondary," he said.
Not that the rooms are anything to complain about. All feature wooden flooring, USB ports, full-length mirrors and surprisingly upscale bathrooms, some with marble counters. Dorm rooms sleeping four feature lockable storage for packs and luggage, and a toilet separate from the washroom; some are designated female only. (One even has a decorative historic fireplace.)
Double rooms are equipped with TV — a first for the brand. Suites feature generous spaces and custom furnishings. Room configurations are found in both buildings, a 1930s vintage former condo on Collins Avenue and a 1920s house on Indian Creek Drive. Handicap-accessible rooms are available.
"Everyone is looking for design and a lifestyle experience," Thomann explained. Generator delivers with games including foosball and PlayStation, a lobby photo booth, pool-side shuffleboard (yes it's back) and cocktails like the Negroni Supreme made table-side with raspberry-and-pistachio-infused Tanqueray 10 gin.
Generator snagged Gui Jaroschy, formerly of cocktail-haven Broken Shaker, as its director of bar and restaurant concepts for the entire lodging group. Concoctions include The Banks Sour, made from coconut-washed Banks 7, spices, Cava and cherry-cider foam; and the Salty Doug, a frothy elixir of Diplimatico Matuana rum and fresh crushed pink grapefruit in a glass rimmed in pink Himalayan salt (both $12.) Craft beers and wine are also available.
Chef Daniel Roy has brought the flair of the Matador Room, where he previously cooked, to a price point affordable to mortals. While the indoor Jim & Neesie restaurant looks like a neighborhood eatery in Buenos Aires or Montevideo, the cuisine goes far beyond neighborhood fare. Charred asparagus is topped with crispy poached egg and marcona almonds ($15). Crispy octopus is actually crispy, served with olive pepper salsa ($20). The citrus-roasted carrots topped with pesto and hazelnuts ($12) are definitely not from your granny's cookbook. Bites at the outdoor Driftway include chicken tacos flavored with achiote and pickled red onion ($7) and a wagyu beef sandwich with two-year white cheddar on toasted baguette ($16).
If the quality lives up to an early tasting, locals and visitors alike will likely return again and again. That repeat business is part of Generator's strategy — the business model requires 80 percent hotel occupancy year round — and played into the decision to make Miami the brand's first U.S. location.
"Everybody knows Miami. Everybody wants to go to Miami," said Thomann. "Everybody will go to Miami multiple times." – Jane Wooldridge
Published in The Miami Herald, Oct. 10, 2018