Firm Helps Client Move Forward
June 9, 2015
Bercow Radell & Fernandez Help Client Gain Approvals for New Projects
Renderings of the Wave in South Beach
Crescent Heights' Wave and Whole Foods Win Design Approval
The Miami Beach Design Review Board on Tuesday gave its approval for two large Crescent Heights projects that could transform much of Alton Road for years to come.
After rejecting an earlier design last month, the board signed off on the Wave development, a mixed-use four-building project that is projected to have 300,000-square feet of residential space, including 321 apartments, and approximately 50,000 square feet of retail space.
The Wave will be located between Fifth and Seventh streets and between Alton Road and West Avenue. Much of the project had received earlier design approval, but last month the Design Review Board rejected planned undulating balconies for many of the residential units, saying the balconies were not functional and would block view corridors. A more streamlined balcony design got a positive reception from the board on Tuesday with minor design modifications to proposed balcony railings.
Marisa Galbut, retail development manager for Crescent Heights, said that with the board's approval the mammoth project can now move forward in the permitting process, and construction could begin next January on a 24-month timetable to completion.
Crescent Heights also got design approval for its plans to build a new 50,000-square foot project at 1901 Alton Road that will include a new 40,000-square foot Whole Foods Market.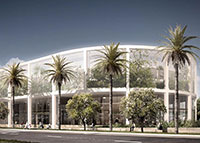 Rendering of Whole Foods Market
The project, which received approval last month from the Miami Beach Planning Board, requires Crescent Heights to build a traffic roundabout at Dade Boulevard and 19th Street.  The intersection is one of the most congested on Miami Beach and traffic issues had delayed the approval process for the project.
The planning board rejected an earlier design in January but the Design Review Board endorsed the latest plan, which includes a screened front that will cover vegetation, on Tuesday, with minor modifications. Crescent Heights also received a three-foot height variance to cover rooftop-cooling systems.
The new store will have 272-parking spaces and a 198-seat café. Whole Foods said a smaller 18,000-square foot store at Alton Road and 10th Street will remain open.
The site is owned by Wells Fargo Bank, which has a branch there. A new branch will open inside the building. Whole Foods has been aggressively expanding in South Florida, including launching new stores in Pompano Beach and downtown Miami.
– James Teeple