Firm Success: Miami Beach approves plans for a park and high-rise at the gateway to South Beach
December 13, 2018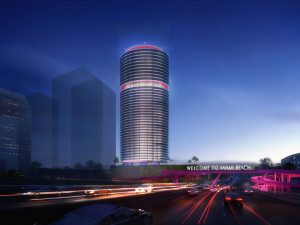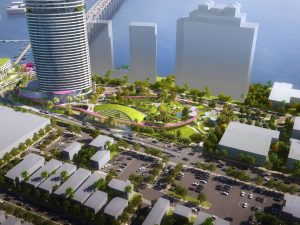 After years of neglect, the gateway to South Beach is finally getting a makeover.
On Wednesday, following several hours of heated discussions, the Miami Beach City Commission approved an agreement that will transform three mostly empty lots where the concrete skeleton of the South Shore Hospital sits into a 3-acre public park, a luxury condo tower and retail space.
The agreement came after months of negotiations and more than 100 meetings between residents and developer Crescent Heights. It will allow the developer to build a 519-foot, 44-story high-rise and 15,000 square feet of retail space between Alton Road and West Avenue near the entrance to the MacArthur Causeway. In exchange for permission to build what will end up being one of the tallest buildings in Miami Beach, the developer agreed to create a public park on the site designed as a sponge to soak up floodwater.
"At the end of the day I think there's going to be a terrific park," said Mayor Dan Gelber. "I think this terrible eyesore at the entry to our city is going to be gone very soon," he added.
While Crescent Heights owns the three lots, a development restriction — known as floor area ratio — limits the size of the building allowed on a given parcel of land. In order to build a high-rise, Crescent Heights needed the city to vacate the portion of Sixth Street that divides the plots, allowing the developer to treat the land as one lot. Miami Beach occasionally allows developers to merge lots in this manner in exchange for public benefits, such as a park. (In this case, the city will vacate Sixth Street only on paper; the road will remain in place.)
Crescent Heights initially proposed building up to a 50-story tower in exchange for a public park, a plan largely supported by residents in nearby condo buildings who were eager to see the remains of the South Shore Hospital demolished and a park put in its place. Another group of residents from some nearby neighborhood associations formed the Gateway Community Alliance to push for a shorter tower and a larger park.
That led to months of negotiations. By December, the developer, commissioners and resident groups had reached an agreement on the broad outlines of the plan, but still had to iron out key details.
One of the main sticking points at Wednesday's meeting was whether short-term rentals should be allowed in the condo tower. The site is located in an area where rentals of six months or less are legal, but some residents and commissioners argued that allowing short-term rentals in the high-rise could negatively impact traffic and condo owners' quality of life.
"This project would concentrate 410 units at the single most congested intersection in the city," said Frank Del Vecchio, a longtime Miami Beach activist and a member of the GatewayCommunity Alliance. "Even if transient renters might not bring their own cars, they would generate excessive traffic by Uber, Lyft, and cabs," he said.
Others rejected the idea that short-term rentals would make traffic worse. "I can't with a straight face with logic say that somebody using an apartment for 30 days is going to impact traffic more than a resident," said Commissioner Ricky Arriola. "That just defies logic to me."
Developer Russell Galbut argued that prohibiting rentals of less than six months in the condo building could make it harder for him to get financial backing for the project. "No financial institution is going to back a project that gives up the rights that are commonly enjoyed by every other property in that neighborhood," he said.
After hours of discussion, commissioners agreed to a compromise prohibiting condo owners from offering short-term rentals in their units, but allowing the developer to rent a small portion of any unsold units for periods of 30 days or more.
The compromise could prove difficult to enforce, however. Elsewhere in Miami Beach, city officials and condo buildings have struggled to enforce short-term rental rules.
The agreement also requires Crescent Heights to demolish the remains of the South Shore Hospital either within 60 days of an ordinance allowing Galbut to keep his development rights on that plot of land, which he could otherwise lose if the building is demolished, or within six months of receiving certain zoning approvals.
The developer will also have at most 2 1/2 years to complete the first section of the park and up to eight years to complete the entire project. The park, which will be situated in one of the lowest lying areas of the city, will include water absorption components designed to help the city deal with the impacts of climate change as well as a system of elevated walkways.
As part of the agreement, the developer will also be required to provide other public benefits, including building a nearby section of the baywalk — if the city gets approval from adjacent property owners — as well as an elevated platform that will allow the city to build a pedestrian bridge over Fifth Street. The $10 million pedestrian bridge will be funded through the city's $439 million general obligation bond program, which was recently approved by voters. – Kyra Gurney