FIU Students and President's Council Spend Three Days in Washington with South Florida Delegation
April 22, 2019
Before Congress adjourned for Spring recess, FIU students sparked innovation discussions with health leaders; FIU's President's Council met with the South Florida delegation; and the Robert Stempel College of Public Health & Social Work hosted a dynamic brain health dialogue.  NOTE: Firm Shareholder Melissa Tapanes Llahues is the chairperson of FIU's President's Council.
Last week, 19 students from more than 10 disciplines participated in the Future of Health Innovations DC Fly-In, an experiential three-day seminar focused on career opportunities and engaging conversations with experts in health research and policy from across government, academia and industry.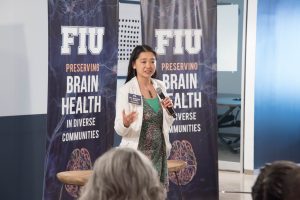 "We are change makers at the university, and we are here to start conversations, so that impact can be made back home in Miami," said Carlos Roche, majoring in biomedical engineering.
The week included a robust lineup of FIU alumni, such as Henry Rodriguez '88, deputy director of the National Cancer Institute, and Morgan Mendis '14, a data scientist at Inspire. Rodriguez invited the group to the campus of the National Institutes of Health in Bethesda to discuss how cancer research is funded in the United States. The dean of the Herbert Wertheim College of Medicine and Senior Vice President for Medical Affairs, Robert Sackstein, provided context of how such research funding is being used at FIU.
During their visit, each student had a scheduled meeting with a national thought leader based on their own unique interests. Sofia Arraut, majoring in dietetics & nutrition, was able to discuss her ideas on how communities could improve access to fresh foods such as vegetables.
Donnalyn Borge and Mariaeugenia Guridan had the opportunity to meet with representatives of the U.S. Chamber of Commerce and the Congressional Hispanic Leadership Institute, organizations at which they have applied for internships.
"With all this information, we're going to take everything we learned here and take it back to Miami and make an impact where it's needed," said Alexis Jones, who is pursuing a master's in public administration.
Additionally, the students attended a brain health conference that allowed them to explore the challenges in determining the linkages between health disparities and genetics on increased incidences of Alzheimer's.  In addition to leading researchers from the Stempel College, Carl Hill, director of the National Institute on Aging in the Office of Special Populations, and health experts from Us Against Alzheimer's were guest speakers.
Before leaving, the student delegation advocated with Congressional offices to further advance FIU's own brain research portfolio and for health research funding for minority communities. These visits included trips to the offices of Congresswoman Frederica Wilson (FL-17), Congressman Mario Díaz-Balart (FL-25), Congresswoman Donna Shalala (FL-27), and Senator Rick Scott of Florida.
The DC Fly-In series is hosted by FIU in DC each Fall and Spring with the support of the Student Government Association and Campus Life in order to connect students to job opportunities relevant to the university's preeminent research themes.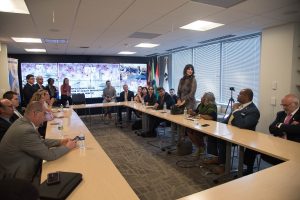 Also, last week, FIU President's Council members visited Capitol Hill to advocate on some of the university's top legislative priorities. The council discussed many of FIU's 2020 appropriations requests, including brain health in diverse communities and the university's resilient infrastructure priority. This is the second year the council's advocacy team tackles federal issues in Washington, D.C.
"It is important that our Congressional delegation and federal partners know that the South Florida business community is looking to support expanded research and economic development activities at FIU. Additionally, we are here to support the amazing opportunities offered to our students in Washington," said Melissa Tapanes Llahues '00, chair of the President's Council.
In addition, FIU was represented by Robert Sackstein, dean of the Herbert Wertheim College of Medicine, and Tomás R. Guilarte, dean of the Stempel College, who met with different members of the Florida Congressional delegation and staff on various FIU health priorities.
The various groups also met with U.S. Rep. Debbie Mucarsel-Powell of Florida.
Published April 18, 2019 in the FIU News