Jeffrey Bercow Speaks on Real Estate Panel
January 17, 2017
Miami-Dade's industrial market is going through its own slowdown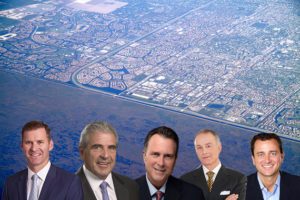 Speaking before an audience of real estate professionals on Friday, Todd Watson, senior vice president for real estate investment firm DCT Industrial Trust, said industrial warehouse owners are feeling pressure to sell rather than hold onto properties because the margins from rental income doesn't justify the cap rates. "It makes it tough for guys like me to put capital out there when the rental rates are not coming in," Watson said.
Watson was part of a panel at the Coral Gables Country Club who joined together to discuss the 2017 industrial report by the Commercial Industrial Association of Florida. The other panelists were Scott Gregory, vice president of real estate development and logistics firm Prologis; Jeff Bercow, a partner in Bercow, Radell, Fernandez & Larkin; and Jose Juncadella, principal of commercial real estate brokerage Fairchild Partners.
In 2016, there were 106 sales in Miami-Dade for a combined $373 million, totaling 4.3 million square feet. That's a substantial drop compared to the previous year when 7.1 million total square feet sold for $570 million. In addition, 146 transactions took place in 2015. Over the course of 12 months, the average sale price per-square-foot increased from $79 to $86.
Meanwhile, three out of seven geographical sectors in Miami-Dade identified in the report saw the average rental rate per square foot drop below $10 from 2015 to 2016. Four sectors that had vacancy rates between 4 to 6 percent in 2015 experienced 2 percent increases in 2016.
Gregory said he doesn't expect to see much growth in the industrial market in 2017 even with the Port of Miami being able to accommodate bigger tanker ships coming from the expansion of the Panama Canal. "I don't think it is going to move the needle on demand," Gregory said. "The big driver for more demand will be increases in local consumption."
Easton said there is a green wild card for industrial warehouse landlords and developers on the horizon. With passage of the medical marijuana constitutional amendment last year, firms authorized by state health officials to produce and distribute cannabis will need massive warehouses for their operations.
"They are willing to pay ridiculous prices," Easton said. – Francisco Alvarado