Lennar's plan to replace Wynwood Yard, O Cinema with apartments among four big projects in Miami
September 6, 2018
Bercow Radell Fernandez & Larkin represented three of the following projects, which were recommended for approval. Reported by Brian Bandell and published September 5, 2018 in the South Florida Business Journal:
Miami officials will consider four major developments on Wednesday afternoon, including a plan by a Lennar Corp. subsidiary to build apartments on the site where Wynwood Yard and the O Cinema currently operate.
The city's Urban Design Review Board will also consider plans by a European developer to build apartments in Little Havana, a luxury condominium in Brickell, and the expansion of Brickell Motors.
LMV II Wynwood Holdings, part of Miami-based residential development giant Lennar (NYSE: LEN) has the 1.11-acre site at 48-98 N.W. 29th St. and 63 N.W. 28th St. under contract from longtime owners Barreto Properties and 29th Street Complex, both managed by David Lombardi of Lombardi Properties. The property currently has 10,359 square feet of buildings and the popular open-air Wynwood Yard dining and food space. O Cinema – the neighborhood's art house movie theater – the offices of Art Miami, and an art gallery are the tenants, Lombardi said.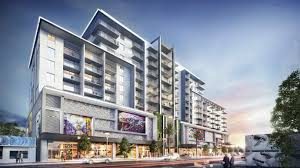 Lombardi said he decided to sell the property after local broker Jim Friedapproached him, saying that Lennar was looking for apartment development sites in the area. He anticipates that Lennar will break ground in spring 2019.
"I'm the guy who took it on the chin for years when no one else did," Lombardi said. "Wynwood Yard's rent was only enough to cover my property tax. She signed a lease for two years, and she was there three years. O Cinema was there seven years, and I kept them at below-market rent."
Wynwood Yard founder Della Heiman said her business will transition out of Wynwood in spring 2019. It will open, permits permitting, North Beach Yard in Miami Beach in late 2019.
"We are excited about the future and so grateful for the support of communities in both neighborhoods," Heiman said. "We're also extremely grateful to our amazing landlord, David Lombardi, who believed in and enabled this project back when we opened our doors in November 2015."
Lombardi said he would look to find space for both O Cinema and Art Miami in other Wynwood properties he owns.
Lennar's Wynwood Green would total 323,057 square feet in 11 stories. It would have 189 apartments, 16,768 square feet of commercial space and 324 parking spaces. There would be a pedestrian passage from Northwest 29th Street to Northwest 29th Street that goes underneath the building.
Some of the building would have micro units. Apartments would range from 517 to 1,136 square feet. There would be 50 studios, 90 one-bedroom units, and 49 two-bedroom units. The leasable space would total 152,593 square feet.
The parking would be on the first three stories. There would be a pool and amenity deck on the ninth floor. Some of the amenity spaces would be fairly small. The design shows a club room of 842 square feet, a fitness room of 1,118 square feet, a yoga room of 525 square feet, and a business center of 577 square feet.
Wynwood Green was designed by Dorsky + Yue International.
"I think the greater good is to have 189 rental apartments so young people can live in the neighborhood because it takes the neighborhood to another level," Lombardi said. "The dream is to have Wynwood living and playing 24/7."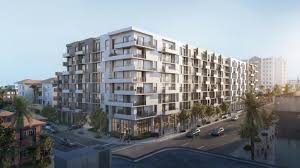 Apartments proposed in Little Havana
Premium Development plans to build apartments and retail in Miami's Little Havana.
A 196-unit apartment project is slated for Little Havana.
Premium 1st Street LLC wants to build the 285,161-square-foot project on the 1.45-acre vacant site at 702-760 S.W. First St., plus 118 S.W. Seventh Ave. The LLC is owned by Premier Development, the Miami arm of Austria-based developer Premium Immobilien AG. It acquired the property in 2017.
The majority of the site is zoned T6-12 O, but a small portion is zoned T4-R, which allows for a lower density. Because of that, the project has two buildings. The larger building would total 281,685 square feet in eight stories, with 192 apartments and 7,000 square feet of retail. The smaller building would total 3,476 square feet in two stories with four apartments.
The project would have a pool, fitness center and a play room on the ground level. The 232 parking spaces would be in the first six stories, with a private terrace atop the garage.
The apartments would range from 644 to 1,163 square feet. There would be 103 one-bedroom units and 93 two-bedroom units.
The project was designed by Anillo Toleda Lopez.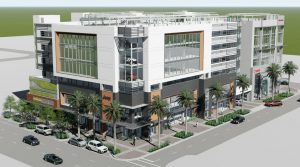 Near dealership sought by Brickell Motors
Brickell Motors plans to build a Chrysler, Dodge, Ram, Jeep dealership in Miami's Little Havana.
Brickell Motors plans to build a new dealership in Little Havana and add another brand to its lineup.
It currently sells Honda, Buick/GMC and luxury imports in Little Havana. The new dealership would sell Chrysler, Dodge, Ram and Jeep automobiles.
The seven-story, 321,803-square-foot facility would be on the 1.34-acre site at 704 S.W. Seventh Ave.; 712, 716, 720 and 734 S.W. Seventh St.; and 701, 705 and 721 S.W. Eighth St. Property owners Miami Automotive Retail and 701 Associates, both majority-owned by Brickell Motors owner Mario Murgado, recently won approval to rezone the property.
The new dealership would have 45,613 square feet of showroom space, 20,278 square feet of service space, and 5,385 square feet of administration space. There would be 748 parking spaces, including 659 for dealership inventory.
The project was designed by FSMY Architects.