Melissa Tapanes Llahues Panelist on Upcoming FAWL Event
January 11, 2021
Melissa Tapanes Llahues will be a panelist discussing "Combatting Gender Pay Disparity: Year-End Performance Reviews and Salary Negotiations," on January 21, from 5:30 p.m. – 7:30 p.m., via Zoom. Click here to register.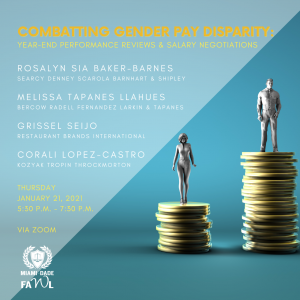 The event is sponsored by the Miami Dade chapter of the Florida Association of Women Lawyers (FAWL). The organization is a volunteer bar association dedicated to actively promoting the advancement of women in the legal profession, expanding the leadership role of its members in the community at large, and promoting women's rights.
FAWL is also committed to promoting diversity and inclusion and providing equal opportunities for participation and support to people of any gender, race, religion, ethnicity, sexual orientation, disability, and socioeconomic background.