Melissa Tapanes Llahues Sworn in as Member of the Miami Downtown Development Authority Board of Directors
September 20, 2021
As Downtown Miami experiences a surge of new residents, businesses and investment from all over the country, Bercow Radell Fernandez Larkin & Tapanes is honored to announce that Melissa Tapanes Llahues has been sworn in as a member of the Miami Downtown Development Authority (Miami DDA) Board of Directors.
The Miami DDA is an independent agency of the City of Miami, governed by a 15-member Board comprised of three public appointees and 12 business owners, property owners and stakeholders who live and work in Downtown Miami. The Miami DDA advocates, facilitates, plans, and executes business development, planning and capital improvements, and marketing for Downtown Miami. The Board of Directors guides the agency towards its commitment to grow, strengthen and promote the economic health and vitality of downtown Miami.
Melissa was formally sworn in as a member of the Miami DDA Board of Directors alongside Jarred Diamond and Arva Suzanne Graham-Gibson on Friday, September 17th.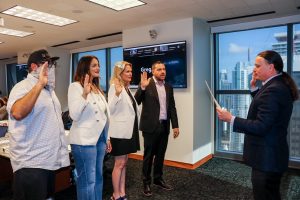 The three new members of the Board were selected by the Miami DDA Nominating Committee who reviewed dozens of candidates. The selections were then approved by the Miami DDA Board of Directors at their June 25th meeting and by the City of Miami City Commission at their July 8th meeting.
"Having the opportunity to contribute to the evolution of Miami as a cosmopolitan paradise is a life's work" said Melissa, "I have been closely following the work of the Miami DDA since 2002, when I first joined my law firm and my mentor, Jeffrey Bercow, served on the Board of Directors with distinction. I am ready to do the same."
Located in in Downtown Miami, Bercow Radell Fernandez Larkin & Tapanes has been at the forefront of Miami-Dade County's phenomenal growth for over two decades, serving as the go-to law firm for real estate developers, property owners, business owners, and government entities seeking legal advice.
Bercow Radell Fernandez Larkin & Tapanes, located at 200 S. Biscayne Boulevard, Miami, was established in 1996. Now with a team of 15 attorneys, the growing law firm moved locations into a larger office space in Suite 300 of the Southeast Financial Tower at the beginning of this year.
For more information, contact 305-374-5300 or visit www.brzoninglaw.com.