Melissa Tapanes Llahues to Lead Roundtable Discussion About Mentoring
March 7, 2019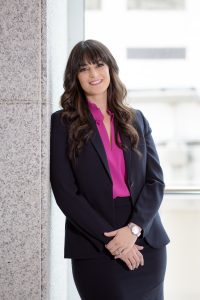 "Awareness into Action: Inspiring Change" is the focus of the upcoming Women in Law & Leadership Summit: Miami, which will be held March 13 at the Kimpton EPIC Hotel.
Bercow Radell Fernandez & Larkin Shareholder Melissa Tapanes Llahues will lead an afternoon roundtable titled, "Mentor & Sponsorship: Creating Growth in Your Organization."
"I'm honored to have been sought out as a leader in mentoring women in the field of law," Melissa said. "As one of the youngest women attorneys in Miami to have been made a Shareholder of her firm several years ago, the subject of mentorship is near and dear to my heart. I know first-hand what it takes in terms of time and commitment to help grow your firm and earn the respect of your peers."
The Women in Law & Leadership conference will provide networking and learning opportunities on topics including mentorship, gender equity and career management. It will address the career obstacles, risks and rewards on the path to a fulfilling and productive career for women lawyers. Questions that will be explored include: What is the best way to manage your career? What are the best approaches for promoting yourself? Where can you take your career? Are companies doing enough to promote high-potential executives?
Melissa focuses her legal practice on growth management; land use, zoning and environmental law; permitting, historical preservation; archeological resources; due diligence reviews; and development agreements.
She serves as an Executive Board Member of the Latin Builders Association and Chair of the FIU President's Council for the 2017-2020 term. Melissa also serves on the Friends of the Underline, Real Estate Committee. Prior civic involvement includes chairing the City of Doral's Design District Steering Committee and serving as a member of the City of Miami Charter Review & Reform Committee.
Melissa's activism has been long in the making. In 1999, Melissa was appointed to the state of Florida Board of Education Postsecondary Education Planning Commission by Governor "Jeb" Bush, where she recommended legislation, funding, and policy initiatives to the governor, legislature, and board of education for both public and private higher education institutions.
The South Florida Business Journal recognized Melissa's professional accomplishments and community leadership with its 2017 "40 Under 40" Award. The Legal 500 named her a "Recommended Attorney" in 2017. And she was named a "Rising Star" by Super Lawyers and an "Up and Comer" by Florida Trend's Legal Elite. Melissa has also been selected for inclusion in numerous Who's Who publications. In 2016, she was recognized with the inaugural Latin Builders Association Leadership Award.
Melissa graduated from the University Of Miami School Of Law (Juris Doctor, cum laude) and earned a Bachelor of Arts in Political Science and Geography (magna cum laude) from FIU's Honors College.