Miami approves Swerdlow's major Overtown retail, apartment project
September 27, 2018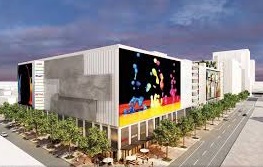 Swerdlow Group has secured approval for a $130.5 million retail and apartment project in Overtown, on the north side of downtown Miami.
The deal could bring national retailers, a fitness center and an entertainment venue to the area.
On Sept. 24, the city's Southeast Overtown Park West Community Redevelopment Agency (CRA) unanimously approved the development agreement with Downtown Retail Associates, an affiliate of Swerdlow Group, led by veteran developer Michael Swerdlow. This was part of a request for proposals (RFP) the CRA issued for the 3.44-acre site at 249 N.W. Sixth St.
The vacant property is just east of Interstate 95 and just west of the Brightline station. Miami Worldcenter is about three blocks east.
"We will not be competing with the high-street retail of Miami Worldcenter and we will not be competing with the upscale retail at Brickell City Centre," Swerdlow said. "It will be wonderful for downtown because the people down there need a place to shop."
It would be called Sawyer's Landing.
The development agreements call for the company to acquire the property for $18 million by July 31, 2019. It must make a $1 million deposit.
Swerdlow said he'd like to break ground in fall 2019, pending city design and permit approval.
Under the development agreement, Sawyer's Landing would have at least 500 residential units, with at least 115 of them workforce housing; at least 250,000 square feet of retail/restaurant/office/entertainment uses, with at least 40,000 square feet of that at the street level; and at least 1,000 parking spaces.
Swerdlow said the exact size of the project is still being determined. However, he expects to have about 330,000 square feet of retail and entertainment with a small office component, and 500 to 600 apartments. The project would rise 12 stories.
Swerdlow said the retail and entertainment space is about 85 percent preleased. He declined to disclose tenants, but said they are household names.
The development agreement also calls for Downtown Retail Associates to meet a 30 percent local labor workforce requirement for construction, a 10 percent local labor requirement for skilled construction jobs, and a "living wage" requirement for construction employees. Currently, the county's living wage is $13.20 with health benefits.
Sawyer's Landing was designed by Kobi Karp Archtiecture and Robtin Bosco Architects & Planners. Other members of its development team include Baupost Group; MCM; planning firm Dover, Kohl & Partners; law firms Shutts & Bowen and Bercow Radell Fernandez & Larkin; and the Greater Bethel AME Church for community outreach. – Brian Bandell
Published September 26, 2018 in The South Florida Business Journal