Miami's Original Seaplane Base Poised for Expansion After Years of Litigation
June 28, 2019
Miami's first and only seaplane base might be in line for a major facelift after settling a seven-year legal battle with the city, its landlord on Watson Island.
The proposal has been moving forward since the operator and the Miami Sports and Exhibition Authority, which leases the 2.9-acre property, ended their legal dispute in 2014 with a new lease spelling out redevelopment parameters.
Nautilus Enterprises LLC wants to build a 44,838-square-foot terminal and a 3,600-square-foot hangar and add 51 parking spaces. The existing 2,038-square-foot terminal would be converted to a restaurant and bar, and a small customs trailer would move into permanent quarters.
The lease extended through 2043 allows up to 19,000 square feet of space for restaurants with bars. A proposed outdoor dining area overlooking Biscayne Bay and the downtown skyline would have four cabanas, 19 tables and 60 seats.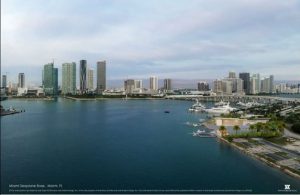 The new terminal and accompanying new structures were designed by Miami-based Kobi Karp Architecture & Interior Design Inc.
The plan moved forward last week when the Miami Planning, Zoning & Appeals Board voted 8-1 to approve with conditions recommended by the city development department staff.
The Miami Seaplane Base at 1000 MacArthur Causeway was established by Chalk's in 1926. Issues between the city authority and the seaplane base operator arose when the authority's board issued a default notice in 2006 for failing to fly.
The dispute focused on new construction with the sports authority rejecting Chalk's restaurant expansion plan. Chalk's sued in 2007 to clarify its rights and duties under the lease.
In a 2013 order, Judge Jorge Cueto sided with Chalk's on the right to build a bigger restaurant and bar but agreed with the city that Chalk's breached its lease by discontinuing flights.
Chalk's International Airlines, an affiliate of the former operator, flew seaplanes between Florida and the Bahamas. It discontinued service after a 2005 crash killed all 20 people aboard shortly after takeoff.
Both Chalk's Airline Inc. and Nautilus Enterprises are listed as the base operators. Ignacio Vega-Penichet is the executive for both, according to the state corporate records.
Ben Fernandez, a shareholder at Bercow Radell Fernandez & Larkin in Miami, represented the seaplane base before the planning and zoning board. – Lidia Dinkova
Published in GlobeSt.com on June 26, 2019