The Legal 500 2016 Recommends Firm Once Again
June 16, 2016
BERCOW RADELL & FERNANDEZ ONCE AGAIN RECOMMENDED BY THE LEGAL 500 2016 IN LAND USE/ZONING LAW 
JEFFREY BERCOW NAMED 'LEADING LAWYER' WHILE MICHAEL LARKIN AND TOM ROBERTSON NAMED 'RECOMMENDED ATTORNEYS' IN LAND USE/ZONING LAW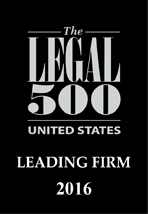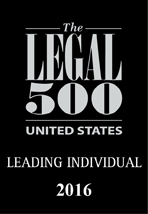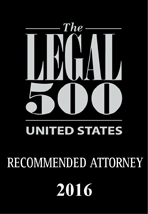 (MIAMI) June 16, 2016 – Bercow Radell & Fernandez is pleased to announce that it has once again been named a "Leading Firm" in Real Estate & Construction — Land Use/Zoning in the 2016 Directory of The Legal 500 and that managing partner Jeffrey Bercow has been recognized as a "Leading Lawyer."
In addition, Partner Michael Larkin and Senior Counsel Tom Robertson have been recognized as "Recommended Attorneys" in the specialty field of Real Estate & Construction — Land Use/Zoning.
"We are thrilled to be consistently recognized year-after-year by numerous legal directories for our diligent work on behalf of our clients," Bercow said. "We are particularly pleased to be given this distinction by The Legal 500 as one of a very few land use specialists in the greater Miami area."
The Legal 500 series is widely acknowledged as the world's largest legal referral guide. More than 250,000 corporate counsel were surveyed and interviewed in the past year. The Legal 500 is an independent guide, and firms and individuals are recommended purely on merit.
The guide summarizes the firm, starting with a quote that calls Bercow Radell & Fernandez "fantastic" and says that Jeffrey Bercow possesses "in-depth expertise."
Bercow Radell & Fernandez's significant clients include:
Adler Development Group; Archstone Smith; Atlantic Civil; Atlantic & Pacific Development; Berkowitz Development Group; Best Buy; Canyon-Johnson Urban Fund; Chetrit Group; City of Miami Community Redevelopment Agency; Cornerstone Group; D.R. Horton; Florida East Coast Properties; Florida International University; Fort Partners; Florida Power & Light Company; Home Depot USA; Homestead-Miami Speedway; Integra International; International Place Associates; Ladder Capital; Landmark Companies; Lennar Homes; Leon Medical Centers; Marriott International;; The Peebles Development Group; Public Storage; Racetrac Petroleum; Related Development; South Beach Group Hotels; Sterling Organization; Terranova; The Congress Group; TriStar Capital; Turnberry Associates; Warren Henry Motors; Whole Foods Market; Williamson Cadillac Company; Woolbright Development; and Yard House Restaurants.
Bercow Radell & Fernandez, located at 200 S. Biscayne Boulevard, Suite 850, Miami, was established in 1996. The firm handles all aspects of local, state and federal real estate permitting and licensing, including zoning approvals, amendments of local government comprehensive plans, developments of regional impacts (DRIs), due diligence reviews, growth management, concurrency and environmental matters.
For more information, contact 305.374.5300 or visit www.brzoninglaw.com.