Two Large, New Projects Retain Firm
March 10, 2016
Four large projects proposed in Miami: residential towers, Brickell hotel, Wynwood mixed-use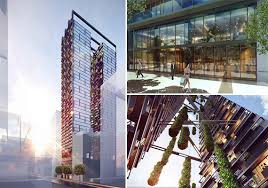 Miami officials will soon consider four major projects: a multifamily tower downtown, a hotel in Brickell, a mid-rise apartment building in Edgewater and a mixed-use project in Wynwood.
All four of these items will go before the city's Urban Design Review Board on March 16.
In downtown, the 54 West Flagler project would have two towers of 43 stories each with a hanging garden between them. Designed by Kobi Karp Architecture, the project would total 512,731 square feet.
The buildings would have 391 multifamily units, 6,630 square feet of retail on the lower floors, 19,968 square feet of amenities such as a pool, a 2,991-square-foot "secret garden" on the 6th floor in between the two towers, and 185 parking spaces in a robotic system garage.
The 18,000-square-foot site at 54 West Flagler Street is currently a parking lot. It was acquired for $5.5 million in 2007 by Gutierrez Resnick Properties, which is managed by Crescent Heights CEO Russell Galbut and Andrew Resnick, both of Miami Beach. However, the application was filed by Brooklyn-based developer Alliance Private Capital Group. Attorney Melissa Tapanes Llahues represents the applicant. She couldn't immediately be reached for comment about whether the units are condos or rentals. 
Cambria hotel planned for Brickell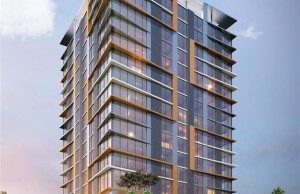 A Cambria hotel could rise in the Brickell area.
CS Brickell LLC, managed by Juan J. Fernandez in Miami Springs, filed the application to build the 17-story, 204-room hotel at 145, 155, and 165 S.W. 12th Street. It acquired the 22,500-square-foot site for $9.5 million in 2014.
Designed by Kobi Karp Architecture, the building would total 182,270 square feet, including 3,584 square feet of retail and 94 parking spaces. It would have a fourth floor pool deck and restaurant.
Tapanes Llahues is the attorney for the developer.
The Cambria hotel brand belongs to Maryland-based Choice Hotels International (NYSE: CHH). It has another Cambria hotel proposed in North Miami Beach. – Brian Bandell
Published online at The South Florida Business Journal, March 9, 2016