UPDATE: North Miami Beach Approves Uptown Biscayne (Firm Client)
February 21, 2018
Here's the giant project that could replace that strip club on NE163rd Street
Most strip clubs have reputations for being shady, crime-ridden, sleazy joints.
But Dean's Gold, the North Miami Beach strip club at 2355 NE 163rd St. that has sat on the northeast corner of the intersection of Biscayne Boulevard and 163rd Street for nearly three decades, has a different kind of rep. To locals, the place is a historical landmark, even if you've never set foot inside.
Formerly known as Solid Gold, the club opened for business in 1989, when "Miami Vice" was still on the air and the city was basking in the international attention that the TV show brought.
Soon, the strip club will shutter its longtime location, a result of the ongoing wave of real estate development that has propelled Miami from its glitzy tourist-magnet persona of the "Vice" era into a more sophisticated global player.
CK Privé Group, a joint development venture between Privé Land Banking LLC and CK Holding Group, has unveiled its final plans for a massive mixed-use project, to be called Uptown Biscayne, that will take over the strip club's current location. It will bring 245 luxury rental apartments, 170,000 square feet of retail and 40,000 square feet of office space to the crossroads where Dean's Gold currently sits. The project will include 1,200 parking spaces. A planned road change should help ease traffic.
The developers paid $23.5 million for the strip club property in 2015 as part of an assembled 4.9 acre lot and $25.3 million for two adjoining parcels that complete the site, for a total of $48.8 million.
The North Miami Beach City Commission is expected to approve the final site plan for the project during a hearing on Tuesday night. The approval would clear the way for the developers to begin filing for building permits. If all goes well, construction could begin within a year.
Javier Rabinovich, a principal with CK Privé Group, said the final version of the Uptown Biscayne project is smaller than the original conception, which would have included a 160-room hotel and three times as much office space.
"The original project was a little dense," said Rabinovich, who has several other mixed-use developments in the pipeline, including the Forum Aventura office tower and the mixed-use Aventura District residential/retail project. "We didn't want to compete with the other projects we are doing in Aventura, so we reduced the size to have something that will be absorbed quickly and will work much better in the area."
Alberto Kamhazi, another principal with CK Privé Group, said that despite the looming presence of Aventura Mall, demand for retail still exceeds demand in the area.
"North Miami Beach, Aventura and Sunny Isles have had tremendous growth over the past few years, but residents are still very limited in terms of local lifestyle and shopping destinations," he said "Retail vacancies throughout these neighborhoods are among the lowest in Miami-Dade County, which makes us bullish about the potential of a retail-driven property such as Uptown Biscayne."
Rabinovich said the two ground floors of Uptown Biscayne will be retail, with tenants to include a supermarket, furniture and home goods stores and restaurants. He said he expects to have two or three signed contracts for large retail spaces within the next 60 days. Retail spaces will go for $40-$80 per square foot.
The third floor will be entirely devoted to 40,000 square feet of office space featuring 20-foot-high ceilings, a common requirement for the kind of content-creating media and tech companies Rabinovich hopes to lure. Office space will be priced at $40 per square foot.
The luxury apartments will range from one to four bedrooms with wide balconies and views to the ocean and the neighboring Oleta River and Greynolds Park. The residential tower will rise 25 stories in height. Rents will range from $1,800-$3,300. Other attractions will include an organic vegetable garden for residents and a 90-foot open-air promenade in the center of the project featuring foliage and trees.
Traffic jams are good for business
According to a 2016 study by Kimley-Horn for the Florida Department of Transportation, more than 150,000 cars pass through the intersection of Biscayne Boulevard and 163rd Street every day. A double-turn access lane will be added to southbound Biscayne Boulevard to allow drivers to turn directly into the property. (Currently, cars have to make a U-turn to access the site).
But traffic also makes the location a prime target for retail establishments, say experts.
"Traffic is bad in all of Miami," said Michael Comras, president and CEO of The Comras Company, which will lease the property. "But traffic is also the most important element for the retail component. If you don't have traffic, you don't have successful retail. We believe this location is the gateway to Aventura and Sunny Isles. Everyone who drives north into Aventura or east into Sunny Isles goes by there."
Uptown Biscayne is one of several developments that have launched since the city of North Miami Beach overhauled its outdated zoning and land-use laws in 2015, loosening its density and building-height restrictions.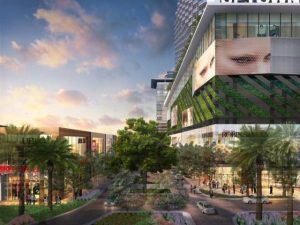 The move was made to encourage development and compete with neighboring areas such as Aventura and Sunny Isles Beach, where luxury development and investments have blossomed.
"Over the last decade, Aventura and Sunny Isles have developed to the max, and all we have gotten in return was the traffic," said Richard Lorber, director of community development for the City of North Miami Beach. "This was the hangover of decisions made many years ago, when the city wasn't interested in development and growth. The point of the rezoning was to get more modern development."
Other projects currently underway in the city include the eight-story, 349-unit luxury apartment tower NOMA at 2145 NE 164th St., which was topped off earlier this month and expected to be completed by the end of 2018. The Harbour, which is comprised of two 32-story condo towers totaling 425 units, was 73 percent presold when it broke ground in 2016 at 16385 Biscayne Blvd. That project is also expected by the end of 2018.
Lorber said North Miami Beach has a current population of nearly 47,000. According to the U.S. Census, the median household income from 2012-2016 was $38,058, which is lower than nearby Sunny Isles Beach ($45,972) or Aventura ($59,657).
Comras believes that the proximity of Aventura Mall to the new project won't be an obstacle in luring tenants, because Uptown Biscayne will be going after a different kind of retailer than fashion and clothing.
"The city of North Miami Beach is on a trajectory where they need to look at their real estate and their commercial districts," Comras said. "How are they going to grow their tax base if they have all this land that is just sitting there and is unproductive? Why wouldn't they want to have a gleaming new project that's a gateway to their city?"
As for the Dean's Gold regulars who lament the closing of the popular spot, which has been described as "Cheers with naked women," Lorber points out there will still be other options.
"There's another club called G5ive that's not too far away," he said. – Rene Rodriguez