Best Lawyers® and U.S. News & World Report Releases 2022 "Best Law Firms" List; Firm Ranks in Top Tiers in Land Use & Zoning Law
November 8, 2021
Bercow Radell Fernandez Larkin & Tapanes is once again ranked in the top tier in Miami for Land Use & Zoning Law as well as in Environmental Law by U.S. News – Best Lawyers® "Best Law Firms" in its just released 2022 edition. The firm successfully placed in the first tier regionally in Land Use & Zoning law.
The publication's annual list highlights firms who are recognized by their clients and peers for consistent professional excellence. According to Best Lawyers and U.S. News & World Report, achieving a tiered ranking signals a unique combination of quality law practice and breadth of legal expertise.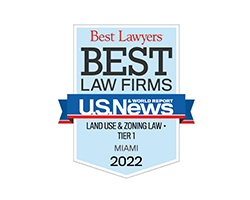 Ranked firms are listed on a national and/or metropolitan scale. Receiving a tier designation reflects the high level of respect a firm has earned among other leading lawyers and clients in the same communities and the same practice areas for their abilities, their professionalism and their integrity.
For the 2022 "Best Law Firms" list, the approach for the initiative remained the same as in previous years. Clients were asked to provide feedback on firm practice groups, addressing expertise, responsiveness, understanding of a business and its needs, cost-effectiveness, civility, and whether they would refer another client to the firm.
To be eligible for a ranking, a firm must have a lawyer listed in The Best Lawyers in America®, which recognizes the top 6 percent of practicing attorneys in the US. Earlier this year, shareholders Jeffrey Bercow, Ben Fernandez and Michael Larkin were listed in The Best Lawyers in America for their work in land use and zoning law.
Since it was first published in 1983, Best Lawyers has become universally regarded as the definitive guide to legal excellence. Best Lawyers lists are compiled based on an exhaustive peer-review evaluation. Worldwide, more than 113,000 industry leading lawyers are eligible to vote. For the 2022 Edition of The Best Lawyers in America, upwards of 10.8 million votes were analyzed, which resulted in more than 66,000 leading lawyers being included in the new edition.
Lawyers are not required or allowed to pay a fee to be listed; therefore, inclusion in Best Lawyers is considered a singular honor. Corporate Counsel magazine has called Best Lawyers "the most respected referral list of attorneys in practice."
Bercow Radell Fernandez Larkin & Tapanes is a leading land use, zoning and environment law firm that offers counsel in comprehensive planning, DRI, growth management and approvals, among other areas. It represents clients before local and state agencies, as well as provides appellate litigation services to administrative proceedings.
The firm's significant clients include: Adler Development Group; JDS Development; Cornerstone Group; Crescent Heights; Fontainebleau Development LLC; Integra Investments; Lennar Homes; Leon Medical Centers; Marriott International; Terra Group; 13th Floor Investments; and Turnberry Associates.
Bercow Radell Fernandez Larkin & Tapanes, located at 200 S. Biscayne Boulevard, Suite 300, Miami, was established in 1996. For more information, contact (305) 374-5300 or visit www.brzoninglaw.com.